WASHINGTON, D.C. -- Residents in most of the 34 sub-Saharan African countries Gallup surveyed in 2011 gave high marks to their chief political executives, including residents in Mali, where the president was ousted in a military coup late last month. Leaders in Burundi, Benin, and Mali received the highest ratings from their constituents, earning approval from nearly nine in 10 residents. Angola's president received the lowest rating, garnering approval from one in six residents. The data make clear that leadership approval and tenure in the region are unrelated.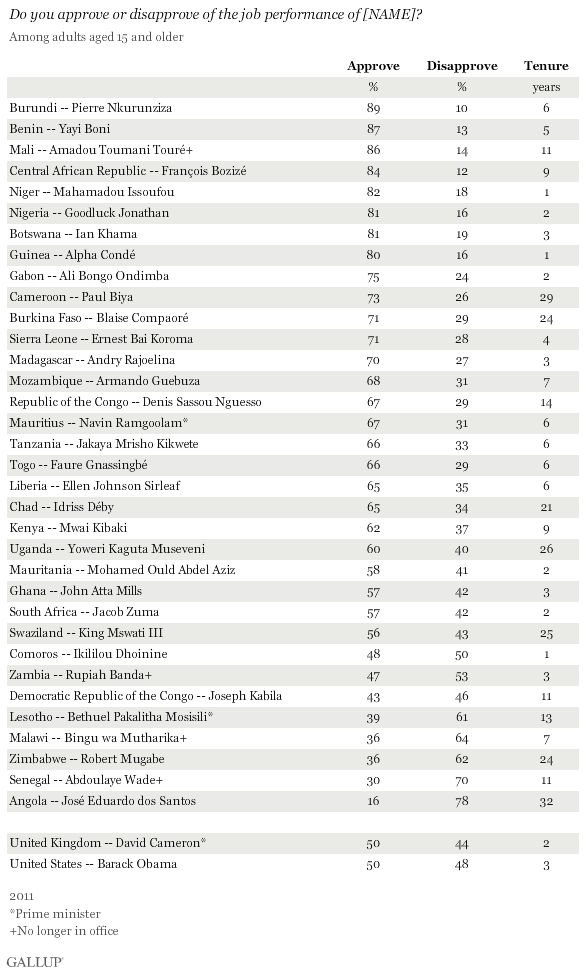 As points of comparison, most African leaders earned higher approval from their public in 2011 than U.S. President Barack Obama and British Prime Minister David Cameron did from theirs.
Approval Ratings Strongly Associated With Institutional Confidence, Local Economy
The state of the local economy does have an influence on Africans' assessments of their country's leader, at least to some extent. It is important to note that many countries in the region -- including those that are not resource rich -- experienced relatively strong economic growth from 2010 to 2011. But other factors are also at play. Confidence in institutions is strongly associated with approval of the chief executive's performance. Those who are confident in the honesty of elections are far more likely than those who are not to say they approve of their leader's performance. Confidence in the judicial system elicits similar levels of approval ratings. Further, even after taking gender, education, country, and household income into account, these results hold true.
Higher Marks Go to the Top Executive Rather Than the Country Leadership
Africans tend to rate their head of state's performance more highly than they rate that of the country's leadership more generally. This suggests that in most cases, Africans differentiate between the top leader's actions and those of the broader leadership.
However, in Angola, Ghana, Lesotho, Madagascar, Malawi, Mozambique, Niger, and South Africa, approval ratings of the head of government are virtually identical to those of the country leadership. Zimbabwe is a different case as residents give higher marks to the country leadership than to the president, Robert Mugabe. This finding suggests that Zimbabweans may credit improvements in their lives more to the actions of the broader unity government in fighting hyperinflation than those of their head of state.
Bottom Line
Although today more African leaders come to office via the ballot box, many remain in power for decades -- or their son becomes the top executive at his father's death. Still, the Gallup results show that job performance approval can be relatively high -- or low -- regardless of the leader's time in office. This suggests that approval ratings of the individual's performance are not strictly related to tenure.
Further, the findings suggest that while local economic conditions do matter, other factors may be more significant drivers of leaders' ratings, although a deteriorating economic environment can worsen residents' assessments of their political leader's performance. Governance issues, such as the honesty of elections and the judicial system, seem to matter much more in the eyes of most Africans. Other factors, such as political apathy, may play a role as many may not be interested in political affairs and tacitly approve of their leader's performance.
The recent change of the guard in Senegal -- where the former president's approval stood at 30% -- and the deposition of Mali's president a few weeks before the end of his second term sends a mixed message about political alternation in the region. In some countries, Africans' voices come through loud and clear at the ballot box. In others, heeding the will of the people is still a work in progress.
For complete data sets or custom research from the more than 150 countries Gallup continually surveys, please contact SocialandEconomicAnalysis@gallup.com or call 202.715.3030 .
Survey Methods
Results are based on face-to-face interviews with 1,000 adults, aged 15 and older, conducted in 2011 in Angola, Benin, Botswana, Burkina Faso, Burundi, Cameroon, Central African Republic, Chad, Comoros, Democratic Republic of the Congo, Gabon, Ghana, Guinea, Kenya, Lesotho, Liberia, Madagascar, Malawi, Mali, Mauritania, Mauritius, Mozambique, Niger, Nigeria, Republic of the Congo, Senegal, Sierra Leone, South Africa, Swaziland, Tanzania, Togo, Uganda, Zambia, and Zimbabwe. For results based on the total sample of national adults, one can say with 95% confidence that the maximum margin of sampling error ranged from ±3.3 percentage points to ±4.3 percentage points. The margin of error reflects the influence of data weighting. In addition to sampling error, question wording and practical difficulties in conducting surveys can introduce error or bias into the findings of public opinion polls.
For more complete methodology and specific survey dates, please review Gallup's Country Data Set details.