WASHINGTON, D.C. -- Women in most Gulf Cooperation Council (GCC) countries are less likely than men to be business owners or have plans to start a business, but Gallup research suggests it is not because they lack the traits associated with entrepreneurs. Instead, it may be their lack of access to mentors.
The percentage of women in GCC countries who own or plan to start a business in the next 12 months is generally low across all countries surveyed, except in Qatar where women and men are the most likely to be entrepreneurs or have business plans. Interestingly, the gender gaps are larger among men and women who own businesses than among those who plan to start businesses -- possibly suggesting greater parity in the next wave of entrepreneurs.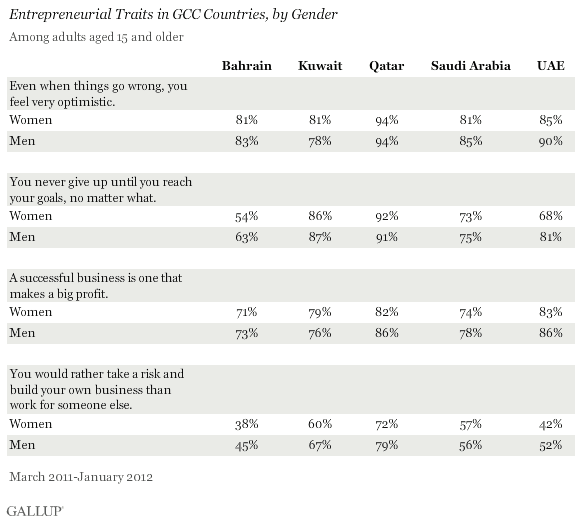 The success of new businesses and their ability to create jobs partly hinges on the personality traits of the people who start them. Gallup surveys in 2011 show women in GCC countries are generally as likely as men to report being optimistic, profit-oriented, and persistent. Women in Bahrain and the United Arab Emirates, however, are less likely than men to report being persistent at 54% and 68%, respectively. The only trait associated with entrepreneurs that women are significantly less likely to exhibit than men in GCC countries -- except in Saudi Arabia -- is risk-taking
Women in GCC Countries Less Likely to Have Access to a Mentor
Beyond basic traits, access to advice, money, and training are important to realizing entrepreneurial ambitions.
Gallup research has established that adults who have access to a mentor are three times as likely to say they are planning to start a business as those who do not have one. Women in GCC countries are less likely than men to say they know someone who can give them advice on managing a business. The percentage of women with a connection to a business adviser is the highest in Qatar and the lowest in the UAE.
When it comes to money and training, the majorities of women and men in GCC countries do not have adequate access. Overall, less than half of the adult populations in the GCC countries surveyed report having access to money and training when they want to start a business.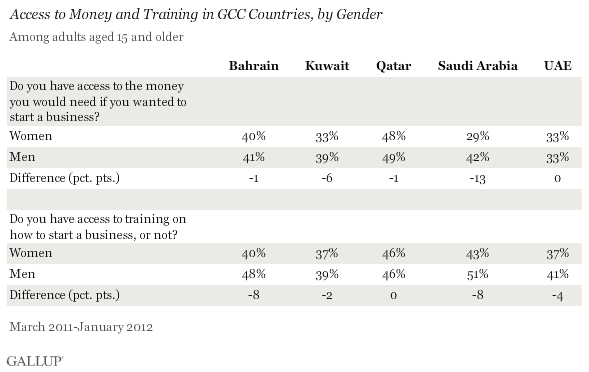 Implications
Governments in GCC countries have recently tried to make it easier for women to participate in the labor force. For example, in Saudi Arabia, women seeking jobs are no longer required to present their male guardians' consent to their potential employers. Moreover, in January 2012, the government limited employment in lingerie stores to female workers for the first time.
By increasing the availability of business advisers and making it easier for aspiring entrepreneurs to access training and money, governments in GCC countries could also capitalize on their female populations' entrepreneurial traits. For example, the Saudi government could consider relaxing the requirement that male guardians must give Saudi women permission to travel because this may be limiting women's ability to connect with business advisors and to pursue business training. Although other GCC countries do not have the male guardianship requirement, cultural factors may limit women's ability to pursue business connections and training by confining them to stereotypical gender roles such as housewives.
Women's inadequate access to money in GCC countries might stem from lenders' low confidence in women's business skills. Furthermore, research conducted by the Dubai School of Governance shows that many aspiring female entrepreneurs in the region lack confidence in their business skills, which discourages them from seeking access to money. Future research should examine the number of loan requests equally qualified male and female entrepreneurs make as well as the acceptance rates. The results could potentially enhance policymakers' understanding of the persistent difficulty that aspiring female entrepreneurs face when seeking access to money.
For complete data sets or custom research from the more than 150 countries Gallup continually surveys, please contact SocialandEconomicAnalysis@gallup.com or call 202.715.3030 .
Survey Methods
Results are based on face-to-face interviews with 1,031 to 2,035 adults, aged 15 and older, conducted in March 2011-January 2012. For results based on the total sample of national adults, one can say with 95% confidence that the maximum margin of sampling error ranged from a low of ±3.4 percentage points to a high of ±3.9 percentage points. The margin of error reflects the influence of data weighting. In addition to sampling error, question wording and practical difficulties in conducting surveys can introduce error or bias into the findings of public opinion polls.
For more complete methodology and specific survey dates, please review Gallup's Country Data Set details.