This article is the third in a three-part series on payments and money transfer behavior of sub-Saharan Africans, based on a new Gallup study funded by the Bill & Melinda Gates Foundation.
WASHINGTON, D.C. -- Two-thirds of Kenyans who had sent money to family members or friends living in a different city or area in Kenya sent the money via a mobile phone, making them the most likely to transfer money this way across several sub-Saharan African countries surveyed in 2011. Uganda and Tanzania were second and third most likely (43% and 32% of remittance senders, respectively) to report that they had made a mobile phone-based transaction in the 30 days prior to the survey.
These figures contrast with results from seven other sub-Saharan African countries surveyed in 2011, where fewer than one in 20 senders of domestic remittances used mobile money transfer services. In Congo (Kinshasa) and Sierra Leone, for example, mobile phones were never used to make that kind of transaction. Respondents there sent cash or brought it in person. With the exception of Kenya, at least half of remittance senders in all countries surveyed used only these informal payment channels.
In more developed banking markets such as South Africa, Nigeria, and Botswana, bank transfers were a relatively popular way to send remittances domestically, with 33%, 29%, and 22% of senders, respectively, using this channel; however, rates of cash transactions were still high in these three countries.
Mobile Phone Transfers Also Popular Among the Poor and Rural Residents
One of the key advantages of mobile technology is that it can extend access to banking services to those who may not live in close proximity to brick-and-mortar bank branches. Across the 11 sub-Saharan African countries surveyed, adults from rural areas and villages who sent domestic remittances 30 days prior to the survey were more likely to have sent this money via mobile phone transfer (28%) than those living in urban areas (13%). Urban residents were more likely to have used bank transfers (25%) than were rural residents (9%). A majority among both villagers and city dwellers still only sent domestic remittances in cash, either through someone else or in person.
The study also shows that remittance senders living on less than $2 a day were about as likely to have used mobile phone money transfers as those living on more than $2 a day (21% vs. 23%, respectively). However, roughly seven in 10 of those living on less than $2 a day exclusively used informal cash transactions to send domestic remittances, compared with four in 10 of those living on more than $2 a day. About one-quarter of those living on more than $2 a day transferred the money through a bank or financial institution, compared with fewer than one in 10 senders living on less than $2 a day.
Thus while both groups use mobile money where available (mainly in Kenya, Tanzania, and Uganda), in places without mobile money, banks are most commonly used by those living on more than $2 a day while those living on less than $2 a day live in a cash economy.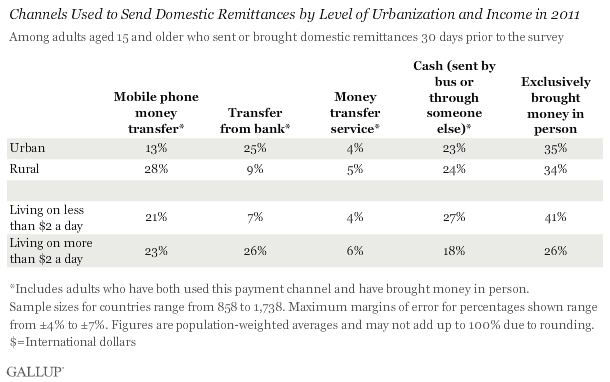 Majority in Countries Surveyed Have Access to Mobile Phones
While this study highlights the potential of mobile banking services to link large numbers of poor sub-Saharan Africans to the financial system, it also reveals that a lack of access to mobile phones will pose problems for mobile money providers in only a small number of places. Across the countries surveyed, 55% of adults owned a mobile phone; 22% could borrow the mobile of a neighbor, friend, or family member; and 23% had no access to a mobile.
Moreover, in all sub-Saharan African nations surveyed, at least six in 10 adults who only made informal cash payments in the 30-day period before the survey did have access to a mobile phone, indicating there is potential for mobile money to expand to this underserved segment.
In Nigeria, Zambia, and Botswana, where mobile money is still in its infancy, at least eight in 10 adults who only used informal payment channels had access to a mobile phone. In Nigeria, for example, two-thirds of this group owned a mobile, and 23% were able to borrow the mobile of a friend or relative.
Gallup's data also demonstrate that across most countries surveyed for this study, a majority among the rural population and the poor had access to a mobile phone.
Implications
While the widespread use of cash transactions in these sub-Saharan African countries indicates that many residents live without access to a formal financial system, this study shows the potential to expand access to financial services through mobile phones. Kenya's current penetration shows how quickly this technology can spread. Only four years after mobile network operator Safaricom launched the donor-funded project M-Pesa in 2007, 19 million M-Pesa accounts had been registered in Kenya.
Meanwhile, mobile phone money transfers are becoming increasingly popular in Uganda and Tanzania, which confirms that the success of this technology in sub-Saharan Africa must not be confined to Kenya alone. As this study reveals, mobile money also reaches the poor and residents of rural areas in these three East African countries. Mobile phones and mobile coverage in other countries are widely available even to those who currently use only informal financial systems. This is a positive sign for millions of African households poised to benefit from affordable money transfers and other financial services in the future.
Read the complete report and questionnaire.
For complete data sets or custom research from the more than 150 countries Gallup continually surveys, please contact SocialandEconomicAnalysis@gallup.com or call 202.715.3030.
Survey Methods
For this study, Gallup conducted face-to-face interviews with 1,000 adults, aged 15 and older, between June 2011 and October 2011 in 11 sub-Saharan African countries, resulting in a total sample size of 11,000. Results presented in this article are subgroups of these samples. The base, the range of the sample size per country, and the corresponding ranges of margin of error can be found in the footer of each of the three tables.
The margin of error reflects the influence of data weighting. In addition to sampling error, question wording and practical difficulties in conducting surveys can introduce error or bias into the findings of public opinion polls.
Gallup's coverage area includes entire countries, including rural areas. The sampling frame represents the entire civilian, non-institutionalized adult population. Exceptions include areas where the safety of interviewing staff is threatened, scarcely populated islands in some countries, and areas that interviewers can reach only by foot, animal, or small boat.
There were the following exceptions for this study:
In the Democratic Republic of the Congo (Kinshasa), North and South Kivu, Ituri, and Haut-Uele in the eastern part of the country were excluded due to insecurity. The excluded area represents approximately 20% of the population.

In Uganda, the northern region was excluded due to the presence of LRA rebels. The excluded area represents approximately 10% of the population.

The northern part of Mali, mainly extreme desert with difficult access and a nomadic population, was excluded. The excluded area represents 5% to 10% of the population.
In Botswana and Zambia, the sample has a larger-than-expected proportion of respondents who reported completing secondary education compared to the data used for post-stratification weighting.
For more complete methodology and specific survey dates, please review Gallup's Country Data Set details.