WASHINGTON, D.C. -- U.S. adults whose primary health insurance source is Medicaid are in significantly worse health than are adults who get their coverage from an employer or union. More than three in 10 adults on Medicaid are obese, and more than two in 10 say they are being treated for depression (22%) and high blood pressure (24%). Medicaid recipients also struggle disproportionately with asthma and diabetes.
In addition to Medicaid recipients, those who primarily rely on Medicare for health insurance also have poor health in many respects, which is due to the generally older age of Medicare recipients. Specifically, those on Medicare are by far the most likely to have high blood pressure, high cholesterol, diabetes, and to have had a heart attack.
These data are based on more than 28,000 interviews conducted as part of the Gallup-Healthways Well-Being Index with adults aged 18 and older from Jan. 3-March 1, 2013.
Approximately 60 million low-income Americans get their health coverage from Medicaid or the Children's Health Insurance Program (CHIP). Individual states determine the eligibility standards for Medicaid, but enrollees must meet the minimum poverty threshold standards that the federal government sets. The majority of Medicaid recipients in Gallup's data report annual household incomes of less than $36,000. The young -- those aged 18 to 34 -- and females are much more likely to be on Medicaid.
Due to the nature of what allows an individual to receive Medicaid -- they must be low income or disabled -- it is not particularly surprising that this group is in such relatively poor health. Gallup research has long-shown the link between poverty and poor health.
Whatever the cause, the extent of the health problems this group of Medicaid recipients reports suggests that improvement in lifestyle choices and care of these individuals could be particularly effective, not only in improving their personal health, but in lowering government expenditures for the Medicaid program. In particular, obesity and chronic health problems like high blood pressure and depression are preventable -- and a focus on preventing people from developing these illnesses could positively impact their lives and reduce the amount of time and money spent to treat these conditions every year.
During the Jan. 3-March 1, 2013, timeframe, Gallup estimates that 4.5% of Americans aged 18 and older have Medicaid as their primary source of health insurance, while 18.0% mainly rely on Medicare, 3.6% on a military or veteran plan, and 44.5% on an employer plan. Another 11.0% say they have some other source of health insurance, and 17.0% have no insurance at all. Gallup's estimates of the percentage of the adult population on Medicaid are lower than what government surveys find, in part due to question wording. Gallup's estimates may also differ because it only asks respondents for their primary type of health insurance.
With the Medicaid population set to grow due to the expansion of the program under the Affordable Care Act, keeping this group of people as healthy as possible is more important than ever. Federal Medicaid spending was $251 billion in 2012 and is projected to be $265 billion in 2013.
Smoking Worst Health Habit of Those on Medicaid
Thirty-six percent of adults whose primary health insurance source is Medicaid say they smoke -- making them 21 percentage points more likely to report the habit than those with employer-based insurance, and 17 points more likely than the overall adult average. Smoking appears to be the main health habit that this group struggles with disproportionately -- they are about as likely as others to exercise frequently and eat healthily.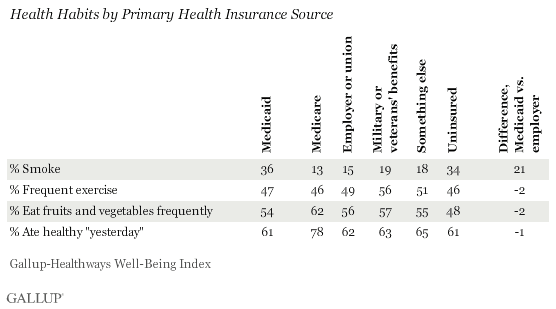 Access to Basic Health Necessities an Issue for Medicaid Recipients
Since Medicaid is a program for low-income Americans, it makes sense that this group trails others in terms of certain health necessities. Even though Medicaid provides coverage for and access to healthcare, it doesn't assist with everything. For example, 26% of Medicaid recipients report that there were times in the last year when they didn't have enough money to pay for the healthcare or medicine they needed. Medicaid recipients are also more likely to say they can't easily find a place to get the medicine they need or a safe spot to exercise.
Bottom Line
Adults on Medicaid -- by definition, those with lower incomes -- are in relatively much poorer health than are those who get their healthcare from other sources, reflecting the overall-population finding that poor health is inversely correlated with income.
Still, Medicaid recipients' disproportionately higher levels of chronic disease and of obesity are putting a strain on the system set up to support these individuals. An analysis by the Kaiser Family Foundation of 2009 Medical Expenditure Panel Survey data shows that "health spending for nonelderly adult Medicaid enrollees with chronic illness ranged from $8,099 per capita among those with respiratory disease to $13,490 per capita among those with diabetes." In fact, the vast majority of Medicaid resources are spent on people who have chronic conditions.
As many Americans who are now uninsured -- and also may be in relatively poorer health -- become eligible for Medicaid due to the expansion of the program, it is likely that chronic conditions will become an even greater cost burden for this program. Some chronic health problems, though, like obesity and high blood pressure are preventable. Stopping them before they form -- especially among the vulnerable low-income population -- would help to significantly bring down Medicaid costs.
Additionally, as this population struggles to afford healthcare and medicine even with Medicaid health insurance, helping the group prevent costly health problems that can last a lifetime will position them better financially.
About the Gallup-Healthways Well-Being Index
The Gallup-Healthways Well-Being Index tracks well-being in the U.S. and provides best-in-class solutions for a healthier world. To learn more, please visit well-beingindex.com.
Survey Methods
Results are based on telephone interviews conducted as part of the Gallup-Healthways Well-Being Index survey Jan. 3-March 1, 2013, with a random sample of 28,533 adults, aged 18 and older, living in all 50 U.S. states and the District of Columbia, selected using random-digit-dial sampling.
For results based on the total sample of national adults, one can say with 95% confidence that the maximum margin of sampling error is ±1 percentage point. For results based on those with Medicaid, one can say with 95% confidence that the maximum margin of sampling error is ±4 percentage points.
Interviews are conducted with respondents on landline telephones and cellular phones, with interviews conducted in Spanish for respondents who are primarily Spanish-speaking. Each sample includes a minimum quota of 500 cellphone respondents and 500 landline respondents per 1,000 national adults, with additional minimum quotas among landline respondents by region. Landline telephone numbers are chosen at random among listed telephone numbers. Cellphone numbers are selected using random-digit-dial methods. Landline respondents are chosen at random within each household on the basis of which member had the most recent birthday.
Samples are weighted by gender, age, race, Hispanic ethnicity, education, region, adults in the household, and phone status (cellphone only/landline only/both, cellphone mostly, and having an unlisted landline number). Demographic weighting targets are based on the March 2011 Current Population Survey figures for the aged 18 and older non-institutionalized population living in U.S. telephone households. All reported margins of sampling error include the computed design effects for weighting and sample design.
In addition to sampling error, question wording and practical difficulties in conducting surveys can introduce error or bias into the findings of public opinion polls.
For more details on Gallup's polling methodology, visit https://www.gallup.com/.