PRINCETON, NJ -- Nearly five years since the start of the global financial crisis that spurred up to 10% unemployment in 2009 and an associated spike in job worries among U.S. workers, employed Americans continue to express elevated concerns about their job security. Workers' worries about having their benefits and wages reduced, their hours cut back, and being laid off surged between 2008 and 2009, and time has not alleviated these concerns.
The trends, from Gallup's annual August Work and Education polls, consistently show that U.S. workers exhibit the most widespread concern about having their benefits reduced, and that remains the case today, with 43% saying so. The percentage of workers worried about a reduction in benefits initially rose nearly 20 points in August 2009, to 46% from 27% the year prior. Since then, about four in 10 have said they worry about this, still much higher than in any year from 2003 through 2008.
Worries about being laid off, having one's wages reduced, or having one's hours cut back all roughly doubled between 2008 and 2009, and remain at the higher levels today -- between 25% and 31%.
Gallup also asks workers whether they worry that their company will move jobs overseas. Far fewer are anxious about this than about any of the direct threats to their job, pay, or benefits. And the 11% saying they worry about outsourcing today is only slightly higher than the 8% recorded in 2008 and little different from the 10% found in 2009.
Fear of Layoffs Up Most Among Low-Income Workers
Workers' concern about the most serious of the possible employment threats measured -- being laid off -- is up 14 percentage points today among all workers compared with August 2008. The 2008 poll -- conducted one month before the fall of Lehman Brothers that precipitated cascading problems on Wall Street over subsequent weeks and months -- provides a clear pre-collapse measure of worker attitudes.
Low-income Americans' concerns about this are up the most. Forty-four percent now say they are worried about being laid off, compared with 19% in 2008 -- a 25-point increase.
Concern is also up more than the average among nonwhites (a 20-point rise), union members (19 points), and government workers (19 points). Those showing below-average increased fear include American workers earning $75,000 or more annually (seven points), 18- to 34-year-old adults (seven points), and postgraduates (nine points).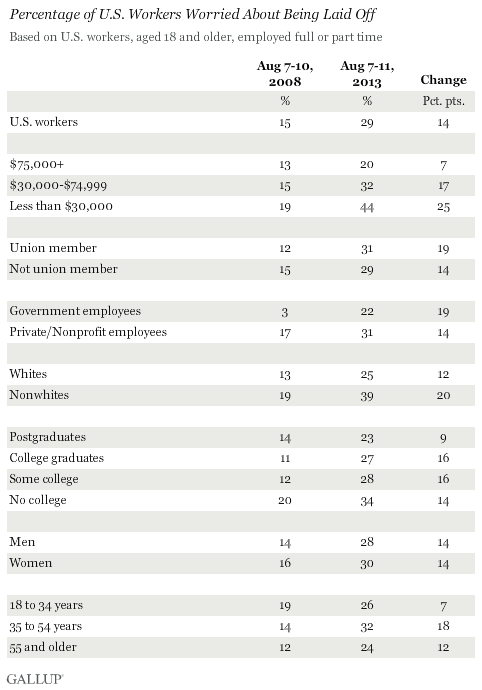 Bottom Line
A great deal has transpired economically, as well as politically, in the five years since the 2008 global financial crisis unfolded. Among the more positive changes are the decrease in unemployment after it reached frightening levels in 2009 and 2010, and the surge in the stock market. Along the way, Americans' confidence in the economy plummeted, but later rebounded to nearly positive territory, and remains less negative today.
Nevertheless, heightened fear among U.S. workers about their employment security, pay, and benefits stubbornly persists. This is particularly true among workers on the lowest economic rung, but is also evident to some degree among all workers.

How this is affecting the economy isn't clear, but it could be somewhat distorting the labor market if workers are more reluctant than in the past to leave or change jobs. Potentially more importantly, it could be a factor keeping a damper on consumer spending, if workers feel less confident about their primary source of income. If so, this could be an important barometer of a cycle in which worker uncertainty leads to sluggish consumer spending, which in turn leads to tepid job growth.

Survey Methods
Results for this Gallup poll are based on telephone interviews conducted Aug. 7-11, 2013, with a random sample of 2,059 adults, aged 18 and older, living in all 50 U.S. states and the District of Columbia.
For results based on the sample of 1,039 adults who are employed full- or part-time, the maximum margin of sampling error is ±4 percentage points.
Interviews are conducted with respondents on landline telephones and cellular phones, with interviews conducted in Spanish for respondents who are primarily Spanish-speaking. Each sample of national adults includes a minimum quota of 50% cellphone respondents and 50% landline respondents, with additional minimum quotas by region. Landline and cell telephone numbers are selected using random-digit-dial methods. Landline respondents are chosen at random within each household on the basis of which member had the most recent birthday.
Samples are weighted to correct for unequal selection probability, nonresponse, and double coverage of landline and cell users in the two sampling frames. They are also weighted to match the national demographics of gender, age, race, Hispanic ethnicity, education, region, population density, and phone status (cellphone only/landline only/both, and cellphone mostly). Demographic weighting targets are based on the March 2012 Current Population Survey figures for the aged 18 and older U.S. population. Phone status targets are based on the July-December 2011 National Health Interview Survey. Population density targets are based on the 2010 census. All reported margins of sampling error include the computed design effects for weighting.
In addition to sampling error, question wording and practical difficulties in conducting surveys can introduce error or bias into the findings of public opinion polls.
View methodology, full question results, and trend data.

For more details on Gallup's polling methodology, visit www.gallup.com.