WASHINGTON, D.C. -- With some of the world's wealthiest countries among their ranks, Organization of Economic Co-operation and Development (OECD) member states may seem like unlikely places for many residents to report problems affording food. But rising numbers of residents in OECD countries -- particularly those with children younger than 15 living in their households -- have found themselves increasingly struggling to buy food since the global economic downturn.
The increase in individuals reporting difficulty buying food in the OECD -- which consists of countries mostly concentrated in Western Europe and North America -- stands in contrast to other regions such as Asia and the former Soviet Union, where percentages declined or remained stable between 2007 and 2013. The Middle East and North Africa, plagued by recent unrest, saw the highest increase in the percentage of people with children struggling to buy food.
Member countries of the OECD include rich, industrialized nations that should theoretically have the resources to combat the problem of food affordability. To some extent, these countries are generally successful in fighting this scourge. OECD countries generally report the lowest percentages of individuals struggling to buy food in the past 12 month worldwide.
But the trend appears headed in the wrong direction, with more individuals, especially those with children, struggling to buy food since 2007. The economic travails that have haunted many OECD countries for more than half a decade are at least partly responsible for these changes. Overall growth in gross domestic product (GDP) for the OECD declined by nearly 4% in 2009 and fell below 2% for the past two years. For the first quarter of this year, growth disappointed again, registering at 0.4% for all OECD nations. Some OECD member countries such as Greece and Portugal have seen consecutive years of negative growth.
Despite Being Leading Economy, Residents in U.S. Struggle With Food Affordability
The 10 OECD countries that have the highest incidence of individuals reporting difficulty in buying food in the past 12 months are generally the OECD's poorest members. Turkey, for instance, has the second lowest GDP per capita in 2012 dollars, and, in 2013, had the highest percentage in the OECD of individuals, with or without children, struggling to buy food.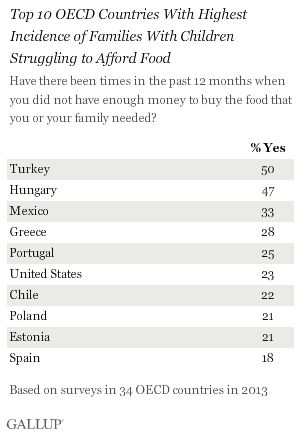 Notably, the world's largest economy, the U.S., figures into these rankings. In the U.S., more than a fifth of individuals with children (23%) report having difficulty buying food in the past 12 months, and 19% of individuals without children have similar challenges. For point of reference, the U.S. is the world's largest economy and has a per-capita GDP of nearly $52,000, well above the OECD average of just over $36,000.
Hungary and Turkey Saw Largest Increase in Food Buying Difficulties
Relative to the pre-crisis year of 2007, several OECD countries have seen considerable growth in the portion of their population with young children that has trouble in buying food. Hungary, which has experienced multiple economic contractions over the past few years, has seen this measure climb by 32 points, with almost half of all individuals with children in 2013 reporting difficulty affording food in the past 12 months. Turkey in 2013 had more individuals struggling to buy food than in 2007, by 22 points. Greece has seen a 20-point net increase.
Again, the U.S., despite its economic stature, has seen itself slip on this measure, especially compared with its peers such as Japan, Germany, and France. The latter three countries were, along with the U.S. and the non-OECD country of China, the world's top five economies in 2013. But while the percentage of individuals with children struggling to buy food in the U.S. has grown by 12 points over the past seven years, the change in France (up five points), Japan (up three points), and Germany (down one point) has been small or negligible.
Bottom Line
The OECD has many wealthy countries among its ranks, but the recent global recession has been difficult on the residents of those countries. Individuals with young children were particularly vulnerable, with more than one in five such individuals struggling to buy food.
An interesting finding is that the U.S., despite being a geopolitical superpower and the largest world economy, performs worse than many other OECD countries in terms of its residents being able to afford food.
Phoebe Dong contributed to this report.
For complete data sets or custom research from the more than 150 countries Gallup continually surveys, please contact us.
Survey Methods
Results are based on telephone and face-to-face interviews with approximately 1,000 adults in each country, aged 15 and older, conducted in 2013 in 34 countries and areas. For results based on country-level samples, the margin of error ranges from a low of ±3.8 to a high of ±5.6. The margin of error reflects the influence of data weighting. In addition to sampling error, question wording and practical difficulties in conducting surveys can introduce error or bias into the findings of public opinion polls.
For more complete methodology and specific survey dates, please review Gallup's Country Data Set details.