Story Highlights
In U.S., 63% favor the death penalty for convicted murderers
Public tilts in favor of death penalty over life imprisonment
Support generally consistent over the last seven years
WASHINGTON, D.C. -- Six in 10 Americans favor the death penalty for convicted murderers, generally consistent with attitudes since 2008. Since 1937, support has been as low as 42% in 1966 and as high as 80% in 1994.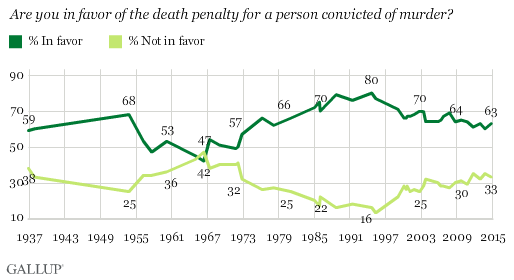 Americans' support for the death penalty has varied over time, but apart from a single reading in 1966, the public has consistently favored it. Support ebbed from the 1960s to the mid-1970s, when the application of the death penalty was questioned and ultimately led to the Supreme Court's invalidating state death penalty laws. Subsequent to that, newly written laws passed constitutional muster and states began to use the death penalty again in the late 1970s, with support among Americans increasing to 70% or more in the mid-1980s to the late 1990s.
The broader trend over the last two decades has been diminished support for the death penalty, including a 60% reading last year, the lowest since 1972.
Over the last two decades, Democrats' support for the death penalty has dropped significantly, from 75% to 49%. Now, Democrats are divided on whether it should be administered to convicted murderers. Republicans' and independents' support is also lower now -- down nine and 18 percentage points, respectively -- though both groups still solidly favor the death penalty.
Americans Tilt in Favor of Death Penalty Over Life Imprisonment
Gallup's long-standing question asks about basic support for the death penalty, but does not explicitly mention an alternative punishment for murderers. Gallup separately asks Americans to choose between the death penalty and "life imprisonment with absolutely no possibility of parole" as the better punishment for murder. Support for the death penalty has been significantly lower using this approach, but Americans still tilt in favor of it by 50% to 45%. These attitudes are similar to recent years, but show reduced support for the death penalty from the 1980s and 1990s.
Democrats' opinions have also shifted markedly on the death penalty vs. life imprisonment question. Two decades ago, Democrats preferred the death penalty by a wide margin, but they now prefer life imprisonment by nearly the same margin. Independents' and Republicans' views have changed less, although both show increases in support for life imprisonment.
Implications
The death penalty has always been controversial, and this year, the issue made headlines again amid a botched execution attempt in Oklahoma.
Americans' support for the death penalty has stabilized at a lower level than was the case prior to 2008, and is well below the highs from the mid-1980s to mid-1990s. And in recent years the public has shown only a slight preference for the death penalty over life imprisonment as the better penalty for murder. These trends toward diminished support seem to be reflected in state death penalty laws, as six U.S. states have abolished the death penalty since 2007, and no new states have adopted it.
Democrats are mostly responsible for this shift in attitudes, and thus it is not surprising that most of the states that have abolished the death penalty in recent years are Democratic leaning. The death penalty is another example of how Democrats' and Republicans' opinions on political matters have become increasingly divergent compared with recent decades, including their views of the job the president is doing and on issues such as global warming and labor unions.
Survey Methods
Results for this Gallup poll are based on 1,017 telephone interviews conducted Oct. 12-15, 2014 (for the favor/not in favor question), and 1,252 telephone interviews conducted Sept. 25-30, 2014 (for the death penalty vs. life imprisonment question). Each is based on a random sample of adults, aged 18 and older, living in all 50 U.S. states and the District of Columbia.
For results based on the total sample of national adults, the margin of sampling error is ±4 percentage points at the 95% confidence level.
Each sample of national adults includes a minimum quota of 50% cellphone respondents and 50% landline respondents, with additional minimum quotas by time zone within region. Landline and cellular telephone numbers are selected using random-digit-dial methods.
View survey methodology, complete question responses, and trends.
Learn more about how the Gallup Poll Social Series works.