Story Highlights
In U.S., 31.7% of employees "engaged" in workplace in March
Engagement for Q1 of 2015 greater than Q1 of 2014
Females significantly more engaged than males
WASHINGTON, D.C. -- The percentage of U.S. workers engaged in their jobs fell to an average of 31.7% in March, down from an average of 32.9% in February. The latest figure also trails the March 2014 average of 32.8%.
The employee engagement average, however, for the first quarter of 2015 is slightly higher than the average for the first quarter of 2014 (32.1% vs. 31.7%).
The March 2015 estimate is based on Gallup Daily tracking interviews conducted with 7,112 adults working for an employer. Gallup categorizes workers as engaged based on their responses to key workplace elements that it has found predict important organizational performance outcomes. Gallup's extensive research shows that engagement is strongly connected to business outcomes essential to an organization's financial success, including productivity, profitability and customer satisfaction. Engaged employees are also the ones who are the most likely to drive innovation, growth and revenue that their companies need.
Females More Engaged Than Males
Female workers are significantly more engaged in their jobs than males. In March, 34.7% of females were engaged, compared with 29.2% of males. The stark contrast in engagement among males and females is consistent with Gallup's historical tracking. Gallup began its daily survey of U.S. workplace engagement in January 2011 and only once -- in September 2011 -- has the engagement of male workers surpassed the engagement of female workers. Typically, female workers are five to six percentage points more engaged than male workers. In part, this difference may be attributable to the types of jobs that females and males tend to hold. Males are more likely to work in jobs that research shows are less engaging, such as production jobs.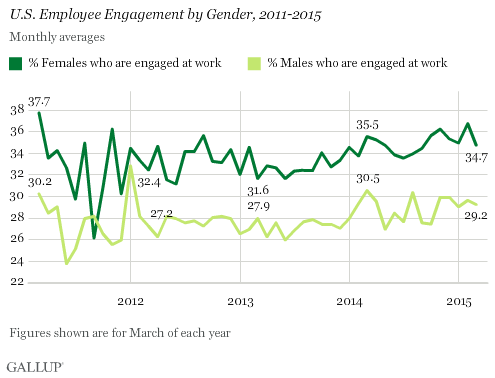 Bottom Line
The recent drop in employee engagement follows a three-year average high on the measure in February. Employee engagement has only surpassed 33% twice since Gallup began its daily survey. At its peak, the rate of U.S. employee engagement reached 33.8% in March 2011, followed by 33.6% in January 2012. Although the February 2015 figure came close to breaking the barrier at 32.9%, engagement retreated again in March. Despite this backslide, employee engagement is still currently higher than it was at this time in 2014.
Survey Methods
Results for this Gallup poll are based on telephone interviews conducted March 1-31, 2015, on the Gallup U.S. Daily survey, with a random sample of 7,112 adults, aged 18 and older, living in all 50 U.S. states and the District of Columbia. For results based on the total sample of national adults, the margin of sampling error is ±3 percentage points at the 95% confidence level. All reported margins of sampling error include computed design effects for weighting.
Each sample of national adults includes a minimum quota of 50% cellphone respondents and 50% landline respondents, with additional minimum quotas by time zone within region. Landline and cellular telephone numbers are selected using random-digit-dial methods.
Learn more about how Gallup Daily tracking works.