Story Highlights
European countries dominate list of most hospitable places
Sub-Saharan African countries among least hospitable
WASHINGTON, D.C. -- As the U.S. Supreme Court prepares to rule on same-sex marriage, the 71% of Americans in 2014 who say their communities are good places for gays and lesbians to live is not one of the highest percentages in the world, but it is also far from the lowest. Across 124 countries, this hospitable attitude ranges from as high as 87% in Spain and the Netherlands to as low as 1% in Senegal. On average, about one in three adults (34%) say their city or area is a good place for gay and lesbian people to live.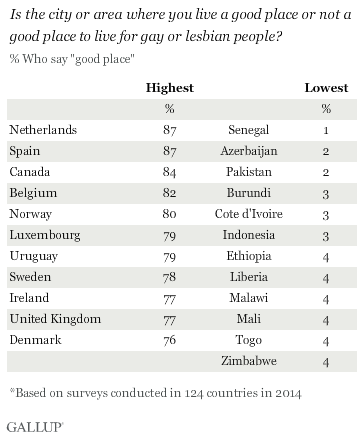 These rankings do not include more than two dozen countries where the question was not asked, including China, Saudi Arabia, Iran, Egypt, Malaysia and a host of other nations in the Middle East and Central Asia.
Of the countries where more than three in four residents feel their areas are most accepting of gay and lesbian people, all but Canada (84%) and Uruguay (79%) are in Europe. With the recent passage of a ballot initiative in Ireland, all of the countries where gay people are perceived as being most accepted have laws that allow same-sex marriage.
Of the nations where less than 5% say their area is a good place for gay people to live, most are in the sub-Saharan Africa region. However, Azerbaijan (2%), Pakistan (2%) and Indonesia (3%) were also among the countries where residents were least likely to say their area is hospitable to gay and lesbian people. In most of these countries, homosexuality is outlawed. In Indonesia, homosexuality is illegal in some provinces but not in others.
In 2014, perceptions of gay acceptance climbed most in Luxembourg -- by 29 percentage points to its current reading of 79% -- where residents had recently elected the nation's first openly gay prime minister, Xavier Bettel. In 2015, Bettel became the first European Union leader to wed a same-sex partner.
In Croatia, an 18-point jump took place in those who feel their area is a good place for gay people to live in 2014. This was the same year in which Croatian lawmakers passed "life partners" legislation, which gave same-sex couples similar rights to married heterosexuals, but still denied them certain rights such as adopting children. In 2013, Croatian voters had banned gay marriage via a referendum.
In Asia, sentiments changed the most in Nepal -- one of the region's most accepting countries toward gays -- and Thailand, each of which saw an increase of 16 percentage points in those who said their areas are a good place for gay and lesbian people to live. Same-sex marriage has not been legalized in either country, but some legislative efforts continue to be made.
Bottom Line
While one in three people in 124 countries say their areas are accepting of gay and lesbian people, this average does not reflect some large populations -- namely, China. In many countries, including some of the world's largest, Gallup could not poll on gay acceptance.
Institutional and cultural discrimination against homosexuals has been upended in many Western countries, but the global gay rights movement has not been particularly successful in less developed countries where, in some of which, merely being gay remains a crime punishable under the law.
In the U.S., gay marriage is legal in most states in 2015, and could be law of the entire land soon. Americans are not as likely to say their area is a good place to live for gay people as many other modernized countries, but they still rate their areas as more accepting than most of the world.
The data in this article were generated from Gallup Analytics.
Survey Methods
Results are based on telephone and face-to-face interviews with approximately 1,000 adults in 124 countries, aged 15 and older, conducted in 2014. For results based on the total sample of national adults, the margin of sampling error ranged from ±2.1 percentage points to ±5.6 percentage points at the 95% confidence level. The margin of error reflects the influence of data weighting. In addition to sampling error, question wording and practical difficulties in conducting surveys can introduce error or bias into the findings of public opinion polls.
For more complete methodology and specific survey dates, please review Gallup's Country Data Set details.
Learn more about how the Gallup World Poll works.