Story Highlights
46% would move to another country permanently, given the opportunity
Middle East/North Africa, Europe desired destinations for potential migrants
WASHINGTON, D.C. -- More than 4 million Syrians have fled their country since the onset of the conflict there in 2011, and millions more have been displaced inside their own borders. As the conflict entered its fifth year in January 2015, about half of Syrians (46%) surveyed said they would leave their country given the opportunity. Nearly as many (43%) said it is likely that they will move away from their community in the next 12 months.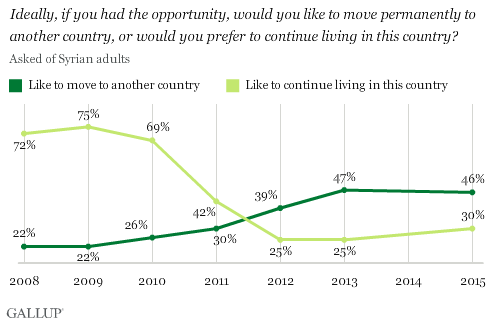 The 46% of Syrians who expressed a desire to relocate to another country is essentially unchanged from the 47% who said so in 2013. In both years, about one-third of the adult population was excluded because areas were destroyed and vacant, or for security reasons. Still, the desire to migrate is more than twice as high as it was at several points before the conflict started.
Regardless of their age, education level or economic status, similar percentages of Syrians would like to leave their country if they could. Gallup's research over a number of years into people's desire to migrate worldwide shows young people, more educated people and those with more means to do so are more likely to want to move. This is not the case in Syria, and speaks to the dire situation many Syrians find themselves in.
Middle East, Europe Most Desired Destinations for Potential Syrian Migrants
While many displaced Syrians have fled to neighboring countries such as Turkey or made their way to European countries, Syrians who express a desire to move away name a host of countries as their most desired destinations if they relocated. Although much media attention has been given to Syrians' desire to move to Europe, Gallup research finds that Syrians who express a desire to leave mentioned 28 different countries within four different geographic regions as their desired destination.
Countries in Europe and the Middle East and North Africa are among the most popular; more than one-third of potential Syrian migrants mention countries in each of these two regions, although no single country stands out individually. According to data from the United Nations High Commissioner for Refugees, more Syrians are currently finding refuge in neighboring Middle Eastern countries than in European countries.
Although Gallup surveys since 2007 have shown that the U.S. is the top desired destination for potential migrants worldwide and that Northern America (which includes the U.S. and Canada) is the most desired region, only 6% of potential migrants in Syria desired to migrate to either of these areas.
Bottom Line
While nearly half of Syrians would like to leave their country, if given the opportunity, this does not mean all of them will. Gallup's findings reflect people's desires rather than their intentions -- but the implications are still serious. Contrary to other research Gallup has done on migration, demographic characteristics such as employment, income level and age do not seem to factor in to whether Syrians wish to leave the country. As The Guardian described the situation in a September article titled "Everyone Wants to Leave," "[Syrians] leaving are not motivated by their political views, but by a situation in which few see realistic prospects for change." For many Syrians, simply finding a way to leave the country may be more important than where they end up after that.
Julie Ray contributed to this article.
These data are available in Gallup Analytics.
Survey Methods
Results are based on face-to-face interviews with 1,002 adults, aged 15 and older, conducted in January 2015 in Syria. Parts of Homs and the Quneitra governorates were excluded, accounting for roughly 2% of the population. In addition, another 30% of the Primary Sampling Units were substituted because of the security situation. Conservatively, this exclusion represents approximately 32% of the population. For results based on the total sample of national adults, one can say with 95% confidence that the margin of sampling error is ±3.5 percentage points. The margin of error reflects the influence of data weighting. In addition to sampling error, question wording and practical difficulties in conducting surveys can introduce error or bias into the findings of public opinion polls.
For more complete methodology and specific survey dates, please review Gallup's Country Data Set details.