Story Highlights
Index at +35, inching out previous high from January
Perceptions of hiring highest in the South, Midwest
Job Creation Index drops in the East, West
WASHINGTON, D.C. -- U.S. workers' perceptions of hiring activity reached a nine-year high in February, with many more employees saying their workplace is hiring people rather than letting workers go. Gallup's Job Creation Index, a measure of net hiring, averaged +35 last month, inching past the previous high of +34 in January.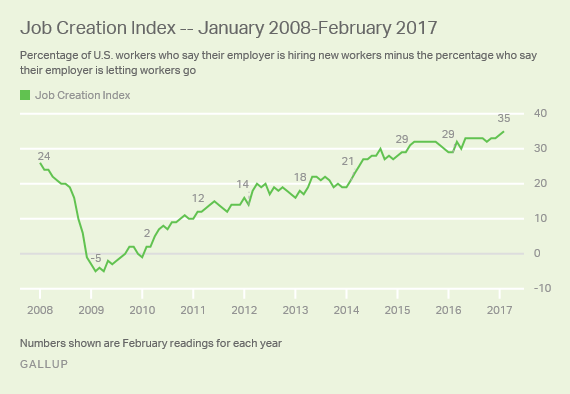 The first two monthly readings in 2017 are slightly better than the +32 to +33 scores seen from May to December last year. The index previously plateaued at about +31 in 2015, following a long, steady recovery after bottoming out at -5 in February and April 2009 amid the global financial crisis.
Gallup's Job Creation Index is based on employed U.S. adults' perceptions of their company's hiring and firing activity. Gallup asks a random sample of employed adults each day whether their employer is hiring people and expanding the size of its workforce, not changing the size of its workforce, or letting people go and reducing the size of its workforce. The resulting index -- computed by subtracting the percentage of employers letting workers go (9% in February) from the percentage hiring (44%) -- is a nearly real-time indicator of the nation's employment picture across all industry and business sectors. Gallup's index does not measure the type -- full time or part time -- or quality of the job gains or losses as reported by workers.
Job Creation Not Experienced Evenly Across U.S.
Though national perceptions of job creation may be at a decade high, not every region of the country is at that point.
Workers in the South (+37) and Midwest (+38) reached new highs in perceptions of hiring at their place of employment in February -- with the Midwest achieving the highest index score of any region in Gallup's tracking since 2008. At the same time, hiring perceptions among workers in the West (+33) and the East (+27) fell by three and four index points, respectively, last month.
Bottom Line
Workers' perceptions of job creation at their place of employment are off to a good start in 2017, with index scores for January and February inching above the previous highs seen last year. These perceptions are likely related to record-high public optimism about the nation's job climate.
Improvements in workers' hiring perceptions since 2009 have been gradual, particularly in recent years; the Job Creation Index ranged narrowly between +28 and +33 over the course of 2015 and 2016. However, increases since December suggest that momentum is building -- but it's unclear whether the improvements will occur nationwide or continue to leave some regions behind.
These data are available in Gallup Analytics.
Gallup.com reports results from these indexes in daily, weekly and monthly averages and in Gallup.com stories. Complete trend data are always available to view in the following charts:
Daily: Employment, Economic Confidence, Consumer Spending
Weekly: Employment, Economic Confidence, Job Creation, Consumer Spending
Read more about Gallup's economic measures.
View our economic release schedule.
Survey Methods
Results for this Gallup poll are based on telephone interviews conducted Feb. 1-28, 2017, on the Gallup Daily tracking survey, with a random sample of 8,919 adults, aged 18 and older, living in all 50 U.S. states and the District of Columbia. For results based on the total sample of national adults, the margin of sampling error is ±1 percentage point at the 95% confidence level. All reported margins of sampling error include computed design effects for weighting.
Each sample of national adults includes a minimum quota of 70% cellphone respondents and 30% landline respondents, with additional minimum quotas by time zone within region. Landline and cellular telephone numbers are selected using random-digit-dial methods.
Learn more about how Gallup Daily tracking works.