WASHINGTON, D.C. -- Americans' confidence in the economy remains strong heading into the final weeks of the holiday shopping season. Gallup's U.S. Economic Confidence Index registered +7 last week, similar to the previous week's score of +9 and close to this year's average of +6.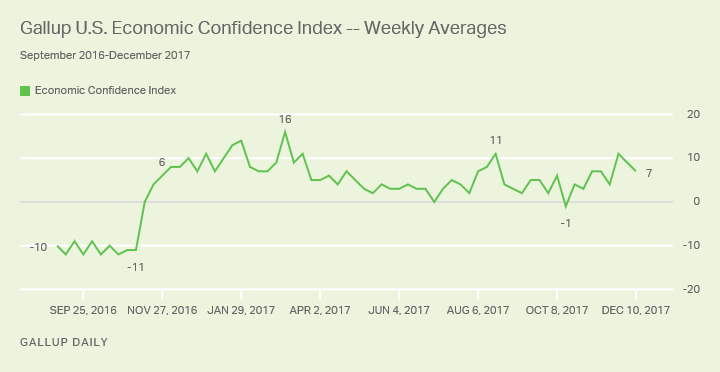 Background: Americans generally have been more positive than negative about the economy -- mainly driven by Republicans' more positive views -- since Donald Trump won the 2016 presidential election. Before Trump's victory, the index had reached positive territory only a few times since Gallup began measuring economic confidence daily in 2008.
Americans' economic confidence faded a bit in the summer and fall of 2017 but bounced back after upbeat economic news including low unemployment, record high stock prices and strong job growth. Still, the index is slightly lower than at some points this year, including the weekly high of +16 reached in early March.
How the index is calculated: Gallup's U.S. Economic Confidence Index is the average of two components: how Americans rate current economic conditions and whether they feel the economy is improving or getting worse. The index has a theoretical maximum of +100 if all Americans were to say the economy is doing well and improving, and a theoretical minimum of -100 if all Americans were to say the economy is doing poorly and getting worse. The index reached as low as -65 in October 2008 during the depths of the Great Recession.
Views of current economic conditions: Last week, 39% of Americans rated current economic conditions as "excellent" or "good," while 22% rated them as "poor." The resulting current conditions score of +17 is just one point shy of the record high reached several times this year, most recently during Thanksgiving week.
Future expectations for the economy: Americans view the economy's direction slightly more negatively than positively. Last week, 49% of Americans said the economy was getting worse, while 46% said it was getting better, resulting in an economic outlook score of -3. This is down slightly from the previous week's score of +1 and just shy of the -1 average so far this year.
Bottom line: Americans' low expectations for how the GOP's tax bill will affect the economy has not dampened confidence much, if at all. High economic confidence, coupled with other positive economic indicators, are expected to result in the Federal Reserve increasing the interest rate during its meeting this week.
However, there could be some economic turbulence in the unlikely event of a government shutdown. Congress passed a short-term budget deal to keep the federal government open until Dec. 22. But if Congress doesn't reach a long-term deal, history suggests that economic confidence could falter during the final, critical days of what is expected to be a strong holiday shopping season.
Survey Methods
Results for this Gallup poll are based on telephone interviews conducted Dec. 4-10, 2017, on the Gallup U.S. Daily survey, with a random sample of 1,010 adults, aged 18 and older, living in all 50 U.S. states and the District of Columbia. For results based on the total sample of national adults, the margin of sampling error is ±3 percentage points at the 95% confidence level. All reported margins of sampling error include computed design effects for weighting.
Each sample of national adults includes a minimum quota of 70% cellphone respondents and 30% landline respondents, with additional minimum quotas by time zone within region. Landline and cellular telephone numbers are selected using random-digit-dial methods.
Learn more about how the Gallup U.S. Daily works.