Story Highlights
Record-low 13% of Afghans feel safe walking alone in their area at night
Confidence in security forces has fallen sharply in past two years
Fear, lack of faith in electoral process may lead to low voter turnout
WASHINGTON, D.C. -- Afghans have been waiting for years to vote for new lawmakers, but security concerns may keep some of them away from the polls this weekend. Adults in the country are currently less likely to feel secure than they have been at any point over the past decade; 13% now say they feel safe walking alone in their area at night, down sharply from 36% in 2016.
Among the biggest concerns facing officials ahead of this Saturday's parliamentary vote are security and low turnout amid a string of Taliban attacks intended to disrupt the elections. Earlier this week, dozens of Afghan police officers were killed in attacks in northern and central Afghanistan. These followed several bombings at campaign events in recent weeks that claimed more than 30 lives, most of them civilians. Additionally, several candidates have been killed by gunmen in targeted attacks, according to Afghanistan's Independent Election Commission.
The current survey of Afghan adults was conducted in July 2018, before these most recent attacks. Even so, the current 13% ties for the lowest figure Gallup has recorded for any country worldwide on this question since 2006; a similar 12% of Venezuelans said they felt safe in 2016.
Further, Afghans' confidence in the country's security services has fallen sharply over the past two years as the Taliban has taken control of more territory and civilian casualties have mounted. Twenty-two percent of Afghans currently say they have confidence in their local police -- down from more than two-thirds (68%) in 2016. Confidence in the country's military has fallen from about three-fourths (76%) of Afghans in 2016 to just under half (49%) this year.
Lack of faith in the legitimacy of the election process may lead many Afghans to conclude that their participation is not worth the risk. Currently about one in five adults (19%) say they have confidence in the honesty of the country's elections, while three-fourths (76%) say they do not. Mistrust in the country's electoral process rose sharply after the 2014 presidential election, which was characterized by widespread voter fraud that contributed to a three-month political stalemate.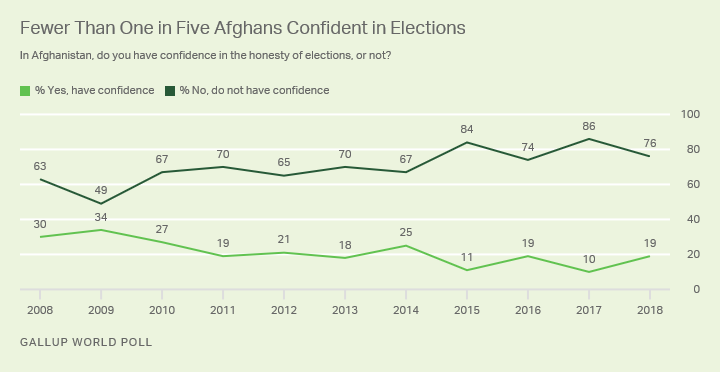 Implications
The country's previous parliamentary elections in 2010 saw low turnout at under a third of eligible voters, though there was less pre-election violence than there has been this year, and Afghan adults were almost three times as likely as they are in 2018 to indicate they felt safe in their neighborhoods. If security fears restrict participation in the current elections to an even smaller fraction of the electorate, questions about representativeness will add to concerns about voter fraud, as seen in 2014's presidential ballot. As such, this weekend's vote represents a test of the country's security forces -- and of Afghan voters' resolve -- ahead of the country's presidential election, scheduled for next April.
For complete methodology and specific survey dates, please review Gallup's Country Data Set details.
Learn more about how the Gallup World Poll works.