GALLUP NEWS SERVICE
PRINCETON, NJ -- In 2006, the Gallup World Poll asked sub-Saharan Africans in 19 countries* about their confidence in eight social and political institutions**. Overall across the continent, they were most likely to say they were confident in the religious organizations (76%) in their countries, followed by the military (61%), and financial institutions (55%).
Africans were least likely to place confidence in the honesty of their country's elections (33%), and their national governments (44%). As a general principle, channeling foreign aid through local religious organizations may be more likely to maximize optimism among African populations than if they perceive it to be directed through their governments, which could introduce an element of cynicism.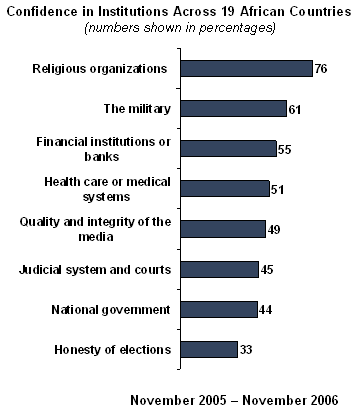 One notable exception to this pattern is Botswana. Upon gaining independence from Britain in 1966, Botswana established what is now the longest-standing multi-party democracy in sub-Saharan Africa. That stability is clearly reflected in the population's confidence in all the country's institutions, but particularly those associated with government and democracy. The country's national government, judicial system, and honesty of elections all elicit the confidence of at least 8 in 10 Batswana, compared to less than 50% of Africans across the 19 countries surveyed.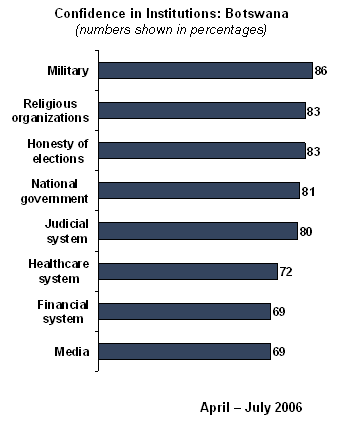 Many of the benefits of government stability directly affect the day to day lives of Botswana's population. As in all of sub-Saharan Africa, malaria and AIDS are pervasive -- but the country's well-developed healthcare system offers more hope than in most African nations. Universal free education has been another key achievement of the Botswana government; 73% of Batswana say they are satisfied with the country's schools, compared to 50% of Africans continent-wide.
* Total sample size: 19,002 individuals aged 15 and older.
** Question wording: "In this country, do you have confidence in each of the following or not? How about [read out each option]?"
Survey Methods
Results are based on face-to-face interviews from November 2005 - November 2006 with randomly selected national samples of approximately 1,000 adults, aged 15 and older, who live in the 19 African nations surveyed. For results based on these samples, one can say with 95% confidence that the maximum error attributable to sampling and other random effects is ±3 percentage points. In addition to sampling error, question wording and practical difficulties in conducting surveys can introduce error or bias into the findings of public opinion polls.