Story Highlights
A record-high 41% of all Afghans say they would like to leave
Women account for rising numbers who would like to migrate
47% of Afghan women would leave if they could
WASHINGTON, D.C. -- In less than a week, millions of Afghans will likely head to the polls to elect their next president, but record numbers of them -- including nearly half of Afghan women -- would rather be someplace else and leave their war-torn country permanently if they could.
Quick Summary: Gallup surveys show that life in Afghanistan in 2018 was, on many levels, worse than at any point in the past decade. Afghans felt less safe, struggled more to find work and afford the basics, and rated their lives worse than anyone else on the planet.
Underscoring their desperation in this environment, more Afghans than ever also said they would like to leave their country permanently if they could -- and join the mass exodus that has taken place in the country since 2015.
Incumbent President Ashraf Ghani has struggled to convince Afghans to stay since he was elected in 2014, a task that is unlikely to get any easier if he is elected to a second term. But the group that may prove toughest to convince will likely be Afghan women, who are chiefly responsible for pushing Afghanistan's numbers to the current record high, and who for the first time are significantly more likely than men to want to leave.
Record-High 41% of Afghans Would Leave Afghanistan: In the midst of the deadliest year for Afghan civilians since the United Nations began documenting casualties, and as millions of Afghans also grappled with food insecurity, a record-high 41% of Afghans said they would move to another country permanently -- if they could.
Afghans' desire to migrate has increased in every region of the country within the past two years, but it is highest in South-Western Afghanistan, where the Taliban have retaken control and where severe drought has driven many Afghans deeper into poverty and food insecurity. A slim majority in the South-Western region (52%) said they would like to move away permanently if they could.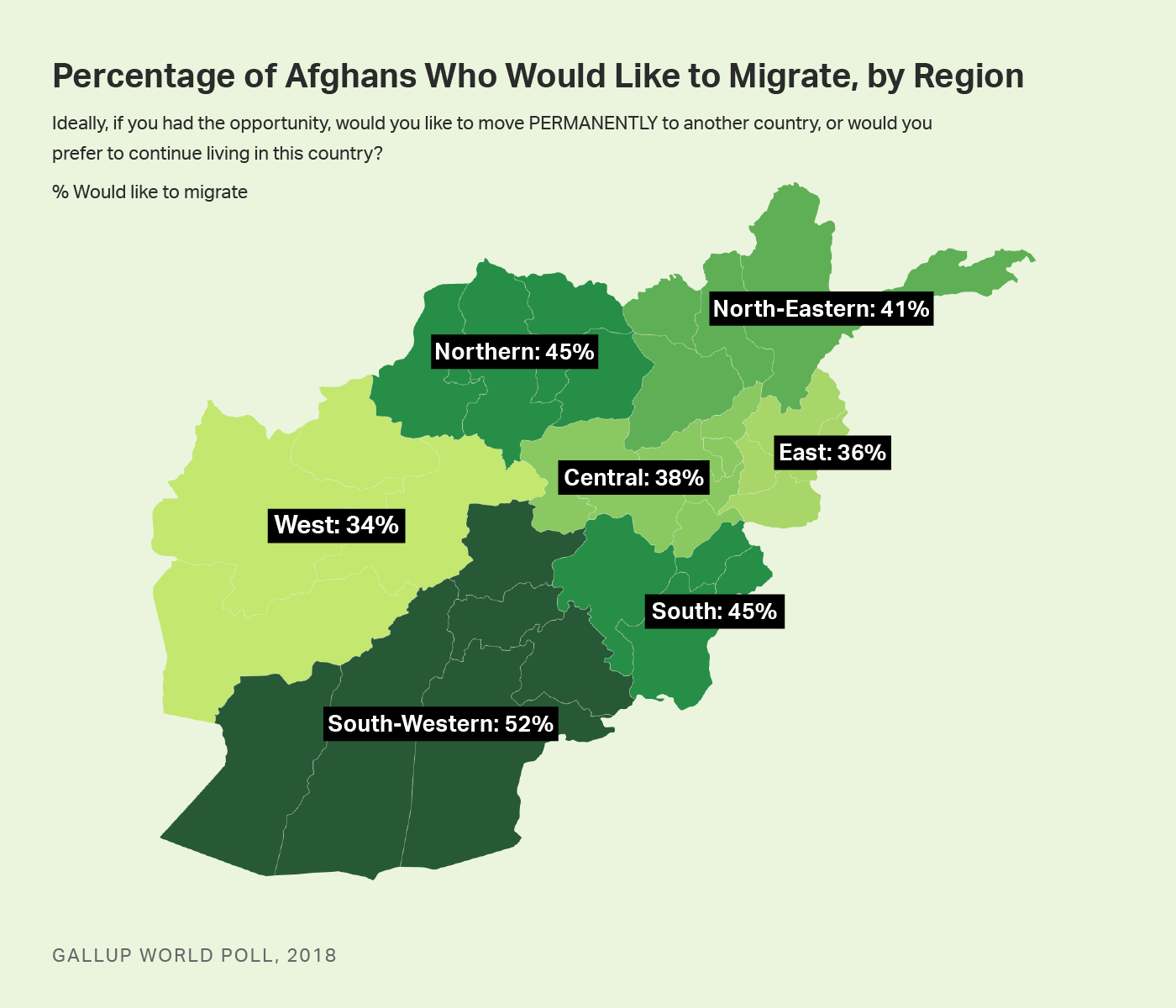 Nearly Half of Afghan Women Would Like to Leave: Since 2016, the rise in the percentage of all Afghans who would like to migrate has been accounted for entirely by results among women, nearly half (47%) of whom in 2018 said they would like to leave.
Nearly two decades into a war touted as "a fight for the rights and dignity of women," Gallup surveys in 2018 showed Afghan women were the least satisfied women in the world with the freedom to choose what they do with their lives; 33% said they were satisfied. With 80% of women out of the workforce and 91% with a primary education or less, these choices remain rather limited.
Amid rising fears that they could lose what freedoms they do have as the Taliban continues to take more control over their country, the percentage of Afghan women who say they would like to move has nearly tripled since 2016, and for the first time, significantly more women (47%) than men (35%) want to leave.
Germany, Turkey Are Top Desired Destinations: Afghans who say they would like to move to another country are most likely to name Germany (19%) and Turkey (19%), the two countries where Afghan refugees make up the second-largest refugee populations after Syrians, as their preferred destination. The U.S., which is often the No. 1 desired destination for most of the world's potential migrants, is the next-most mentioned after the first two, with 12% saying they would like to move there.
Implications: The rising percentage of Afghans who would like to move is likely to raise alarm in Europe, which saw a massive influx of migrants and asylum seekers from Afghanistan in 2015. However, Gallup typically finds the percentage of people who desire to migrate is far higher than the percentage who actually make the move.
The figures should instead generate more alarm for Afghanistan's next government, which will need to find a new way forward and help Afghans -- particularly women -- envision a better future in the country.
For complete methodology and specific survey dates, please review Gallup's Country Data Set details.
Learn more about how the Gallup World Poll works.