Story Highlights
36% say Biden would be a good president; 33% say Trump would
52% of Democrats/leaners wish someone else were their nominee
42% of Americans view Trump favorably; 47% view Biden favorably
WASHINGTON, D.C. -- As both political parties prepare for their conventions, one in four Americans do not think either of the major-party presidential candidates would be a good president. At the same time, roughly equal percentages say only Joe Biden (36%) or only Donald Trump (33%) would make a good president, while 5% say both candidates would.
Similar percentages of Democrats (75%) and Republicans (79%) think only their candidate is suitable, while a 37% plurality of independents do not think either would be a good candidate and nearly equal percentages say only Biden or only Trump would be.
Which best describes your view of Donald Trump and Joe Biden: Both would be a good president, neither would be a good president, only Donald Trump would be a good president (OR) only Joe Biden would be a good president?
Only Biden
Only Trump
Neither
Both

%

%

%

%

U.S. adults
36
33
25
5
Republicans
4
79
12
5
Independents
28
27
37
6
Democrats
75
3
19
1
GALLUP, July 30-Aug. 12, 2020
These readings, from a July 30-Aug. 12 poll, mark the fourth U.S. presidential election of the five that have occurred since 2004 for which Gallup has asked this question. The current percentage saying neither candidate would make a good president is the highest on record.
In 2004 and 2012, when incumbents were also running, 11% and 17%, respectively, lacked faith in both candidates' ability to be a good president. In 2008, an open-race year, 19% said the same -- however, Gallup did not track this measure in 2016 when both nonincumbent candidates, Trump and Hillary Clinton, were historically unpopular.
Only Republican candidate would
Only Democratic candidate would
Neither would
Both would

%

%

%

%

2020 Trump*/Biden
33
36
25
5
2012 Romney/Obama*
31
38
17
12
2008 McCain/Obama
25
29
19
25
2004 Bush*/Kerry
40
33
11
15
Note: Asterisk indicates incumbent status. This question was not asked in 2016.
GALLUP
Republicans More Pleased Than Democrats With Their Party's Candidate
The new poll also asked people who identify with either of the two major parties if they are generally pleased with the selection of their party's nominee. Republicans and Republican-leaning independents are more likely than Democrats and Democratic-leaning independents to say they are generally pleased with their party's candidate.
About three-quarters of Republicans/leaners are generally pleased with Trump, while 25% wish someone else were the nominee. In contrast, 48% of Democrats/leaners are pleased with Biden and 52% would prefer another candidate.
Are you generally pleased with the selection of [Donald Trump/Joe Biden] as the [Republican/Democratic] nominee, or do you wish someone else was the [Republican/Democratic] nominee?
Generally pleased with party's nominee
Wish someone else were nominee

%

%

Republicans/Republican leaners
74
25
Democrats/Democratic leaners
48
52
GALLUP, July 30-Aug. 12, 2020
However, Democrats are much more pleased with Biden as the nominee than are independents who lean toward the Democratic Party (56% vs. 34%, respectively). Likewise, Republicans (81%) are more satisfied with Trump as the nominee than are Republican-leaning independents (63%).
While Gallup has not asked this question in all recent presidential election years, this imbalance in the views of partisans follows a pattern from past elections when an incumbent was running. This can most likely be attributed to the fact that those whose party had a nominating contest may have supported a candidate other than the eventual party nominee and are not yet fully on board with the nominee. In the past, this has often changed after the winner accepts the nomination at the party's convention, as Biden will -- virtually -- next week.
In May 2012, 80% of Democrats/leaners were satisfied with then-President Barack Obama as their party's nominee, while fewer Republicans/leaners were satisfied with Mitt Romney (59%). Likewise, in June 1992, 80% of Republicans/leaners were pleased with then-President George H.W. Bush, while 46% of Democrats/leaners were satisfied with Bill Clinton.
Satisfaction with an incumbent has not always translated to victory, as seen in 1992; Democrats were about as pleased with Clinton as they are with Biden today, and Clinton went on to defeat Bush that November. The Clinton reading was taken before the Democratic convention -- which, along with Ross Perot's departure from the campaign, led to a Clinton surge in the polls after which he never trailed in pre-election polls.
Further evidence of an incumbent advantage on the measure comes in comparing Trump's current standing to what it was in 2016. In August of that year, after he had accepted his party's nomination, less than half of Republicans/leaners said they were pleased he was the nominee.
Biden's current standing is slightly worse than it was for Hillary Clinton in 2016 after the Democratic convention (56%).
% Satisfied/Pleased with own party's nominee
Republican
%
Democrat
%
August 2020
Trump*
74
Biden
48
August 2016
Trump
46
H. Clinton
56
May 2012
Romney
59
Obama*
80
June 1992
H.W. Bush*
80
B. Clinton
46
Note: Asterisk indicates incumbent status.
GALLUP
This year, Democrats/leaners who say they would have preferred another nominee are slightly more likely to be men (56%) than women (49%). Those younger than 35 are the least satisfied with Biden as their nominee -- 82% would rather have someone else.
Trump and Biden Favorable Ratings Remain Below 50%
Although Republicans are more pleased with Trump's nomination than Democrats are with Biden's, Biden holds an edge in candidate favorable ratings among all Americans. Currently, 47% of Americans have a favorable opinion of Biden, compared with 42% for Trump. Trump's rating is down from 49% the last time Gallup asked this question in April, while Biden's is essentially unchanged from 45%.
While Trump's favorable rating has not reached 50% since 2005 -- long before he became a Republican politician -- Biden has been viewed favorably by a majority of U.S. adults as recently as April 2019.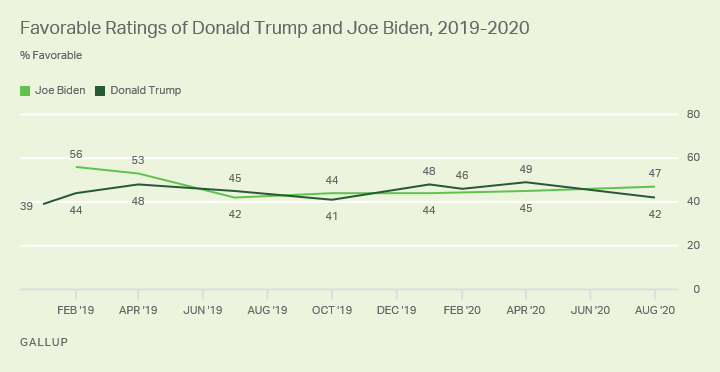 Line graph. Trump's and Biden's favorable ratings since 2019. Trump is currently viewed favorably by 42% of Americans and Biden by 47%. While Trump's favorability has never risen above 50% since 1999, Biden has been viewed favorably by a majority of U.S. adults as recently as April 2019.
Trump's unfavorable rating is 57% among all Americans, resulting in a net favorability of -15. Biden's net favorability is closer to positive territory, at -1.
Republicans and Democrats view their party's presidential candidate nearly as favorably -- 91% of Republicans hold a favorable view of Trump, while Biden's favorable rating is 87% among Democrats. However, among independents, favorability is far lower and about equal for both Trump (39%) and Biden (41%).
Bottom Line
Although a quarter of Americans overall do not think either Trump or Biden would be a good president, about seven in 10 Democrats and Republicans alike think their party's candidate would be. Yet, Republicans are more likely than Democrats to say they are pleased with their party's nominee.
Neither of these measures has been predictive of election outcomes in the past -- likely in part because partisans' attitudes tend to change closer to Election Day, with each group falling in line behind their candidate. These pre-convention ratings may simply provide some perspective on the importance of conventions for rallying the partisan base.
Historically, the more important measure is what Americans as a whole think of the candidates, as reflected in their favorable ratings. In general, since 1992, the candidate who is rated more favorably by Americans has won the election. The 2016 election was a notable exception, when Hillary Clinton was viewed more favorably than Trump but still lost the election. In addition to favorability, in incumbent election years, presidential job approval ratings are also strong predictors of reelection.
Learn more about public opinion metrics that matter for the 2020 presidential election at Gallup's 2020 Presidential Election Center.
View complete question responses and trends (PDF download).
Learn more about how the Gallup Poll Social Series works.