WASHINGTON, D.C. -- Britons head to the polls this Thursday to vote in the country's third general election since 2015. In the leadup to the high-stakes election, the main political parties have been busily pushing their manifestos to the British public, hoping to swell the ranks of their MPs. The Labour Party is attempting to reclaim the majority it last held in 2010 with Gordon Brown at the helm. The Tories meanwhile are trying to secure their majority without the assistance of a coalition.
Both parties have made their claims, but where do Britons stand on the issues? Gallup examined five key elements of the two parties' plans and compared them with Britons' attitudes from our World Poll.
Housing: Majority Dissatisfied With Availability of Quality, Affordable Homes
Labour: If Labour were to secure a majority, one of its proposed policies is to embark on a massive housebuilding program of social housing, creating more than 1 million, as well as a levy on secondary or "holiday homes" to combat homelessness, and granting cities the power to cap rents.
Conservatives: The Conservative manifesto includes a commitment to building "at least" 1 million new homes over the next five years, as well as a First Home scheme, which discounts properties to first-time buyers. Additionally, the party would introduce a stamp duty surcharge on non-U.K. residents buying property to help pay for schemes to tackle homelessness.
Britons: Britons are pretty unhappy with the current housing situation and these policies could resonate with a number of voters. Since 2014, Britons have been more dissatisfied than satisfied with the availability of good, affordable housing, including the majority (52%) who are dissatisfied in 2019.
Healthcare: Britons Still Largely Satisfied With Availability of Care, but …
Brexit negotiations ongoing, there has been speculation and outcry regarding the National Health Service (NHS) being on the bargaining table for future trade negotiations with the U.S. post-Brexit. No mention of this potential bargaining chip is in either of the major parties' manifestos, however, both outline their plans for the NHS.
Labour: Labour promises to increase NHS spending by around 4.3% annually and end any potential privatization of the system. In addition, annual NHS dental check-ups would be free, and the Party would commit to capping the costs of personal care.
Conservatives: The Conservatives hope to recruit 50,000 extra nurses, create 50 million extra general practitioner appointments a year, and build 40 new hospitals. To fund these ventures, the party would inject 34 billion pounds (45 billion U.S. dollars) additional yearly funding into the system.
Britons: The NHS is a source of pride for many Britons, however in recent years it has felt the pinch of shrinking funding and overworked and fewer doctors and nurses to care for an aging population.
A large majority of Britons (73%) remain satisfied with the availability of quality healthcare where they live, but this is down from much higher satisfaction earlier in the decade. While their attitudes are similar now, prior to 2014, Britons were considerably more positive about healthcare than their U.S. counterparts -- perhaps a point the next parliamentary leader should take into account when considering the NHS's future.
Environment: Britons Less Satisfied With Country's Efforts
With the UK initially declaring climate change a national emergency this summer, both Labour and Tories have outlined their plans to combat it and develop a British green economy.
Labour: The Labour manifesto launches a "new green deal" under which it would aim to reduce the "substantial majority" of the UK's emissions by the 2030 target date -- a shift from the party conference's motion for the UK to achieve net-zero emissions by 2030. Labour would also fund a further fund flood defense and force producers to pay for the waste they create.
Conservatives: While the Conservatives' climate priorities are not as outlined as Labour's, in June, they set a world-leading goal of cutting emissions to virtually zero by 2050. Also, while in power, the Tories have created a wealth of cheap offshore wind energy. However, it appears that interim emissions are already missing the mark.
Britons: Britons are less satisfied than they have been in years with their country's efforts to preserve the environment. Satisfaction has been on its way down since 2015 but dropped 10 percentage points between 2018 and 2019. A slim majority of Britons (51%) are satisfied this year.
Brexit Leadership: Britons Increasingly Frustrated With Leadership
The Brexit debacle has been ongoing in the British and European parliaments for the past three years with little resolution.
Labour: Party Leader Jeremy Corbyn has promised to "rip up" Prime Minister Boris Johnson's deal, negotiate a new one within three months and put it to a "legally binding" referendum. The deal would include a country-comprehensive customs agreement with the EU, with close and dynamic alignment with the single market and workers' rights and the environment, assuring he will follow suit with any EU future protections and contribute funding to EU science and environment programs.
Conservatives: Johnson, on the other hand, has personally guaranteed that he will get Brexit "done" in January if he wins a majority. Additionally, the Tories promise to negotiate a trade deal with the EU next year and assure they will not extend the post-Brexit transition period beyond December 2020. In this plan, the UK will be outside the EU single market and any form of customs union.
Britons: Brexit has soured the attitudes of the public with its lengthy process and divisive politics and has already forced the resignation of two prime ministers. After multiple pushbacks of the Brexit timeline, the majority of Britons (56%) disapprove of the country's leadership in 2019, and approval has dropped to 41%.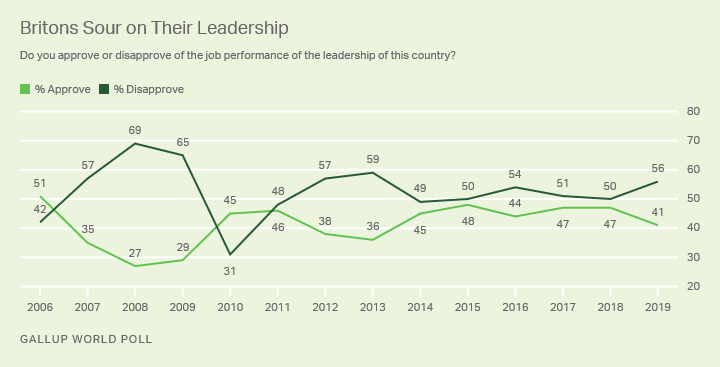 Security: Most Britons Confident in Their Local Police
In light of the recent attack on London Bridge, which took the lives of two young Cambridge University alumna, Jack Merritt and Saskia Jones, policing and sentencing policies have come into the public spotlight.
Labour: Labour would recruit an additional 2,000 frontline officers than the Conservatives (totaling 22,000) and restore prison officer numbers by reversing Tory cuts. Another large focus would be a review of the controversial Prevent Programme, which aims to reduce radicalization.
Conservatives: Conservatives have done an about-face on some of their prior decisions to cut police spending. Johnson has promised to hire 20,000 officers -- replacing those who were previously cut. The Conservatives also pledge to increase the number of prison spaces by 10,000, spending several billion on prison upgrades and more than 100 million pounds on tackling prison crime.
Britons: While high-profile crimes and acts of terror have made the front pages in the United Kingdom and across the world in recent weeks, and in the past several years, the majority of Britons remain generally confident in their local police force. Nearly three in four Britons (73%) are confident in 2019.
Read more about Gallup's surveys in the United Kingdom and the European Union.