Over the past month, Americans have heard a lot about "flattening the curve" and reducing the strain on the healthcare system by limiting their exposure to COVID-19. Despite being instructed to continue practicing social distancing, Americans' support for prolonged government-mandated restrictions has been neither complete nor unwavering.
From mid-March to mid-April, Gallup tracked a question asking Americans about their likelihood of complying with requests by public health officials for people to remain home for a month in the event of a serious coronavirus outbreak in their community. Over that period, the idea of long-term shelter-in-place orders went from hypothetical to actual in most communities, and Gallup eventually ceased asking the question. But it's notable that throughout that one-month period, no more than 67% of U.S. adults said they were very likely to comply, with the rest hedging to some degree. Further, there was an arc in support: The percentage very likely to comply started at 41% in mid-March, rising to 67% by March 30-April 5. That peak occurred as nearly every state had stay-at-home orders in place and President Donald Trump endorsed the practice. However, since then, support has slipped to 62%.
The mid-April decline in Americans' likelihood to stay put occurred as groups of protesters across the country started to pressure leaders to reopen the economy.
Gallup has found similar trends in Americans' self-reports of the social distancing actions they are taking, with peaks in late March/early April and some decline in recent weeks. Gallup will report updated data on these metrics later this week.
Americans' Willingness to Stay Home, by Political Affiliation
While support for compliance increased among all party groups at the beginning of data collection, Democrats' support stayed near its peak as support among Republicans and independents declined somewhat. There are consistent partisan gaps in compliance over time -- with Democrats most likely to comply, Republicans least likely and independents in the middle.
Compliance With Stay-at-Home Orders, by Age Group
Americans' willingness to comply also differed by age, but all age groups showed a substantial increase in their "very likely to comply" percentage from March 13 to March 29. Americans aged 65 and older were consistently among the most likely to comply with stay-at-home orders, while those aged 45 to 64 were among the least likely. The largest shift in compliance was seen among 18- to 44-year-olds, with a 33-percentage-point swing from their low in mid-March to their high during the week of March 30.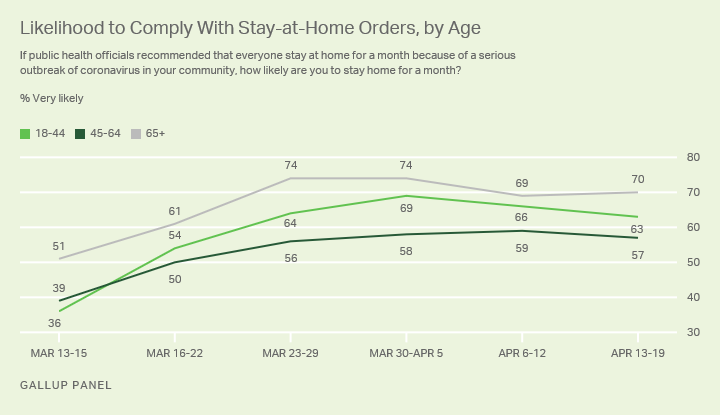 Regional Differences in Stay-at-Home Compliance
COVID-19 hotspots have occurred throughout the country, with regional differences in disease incidence affecting compliance likelihood as well. Those in the South and West were the least likely to say they would comply early on, during the week of March 13. However, by the peak week of compliance (March 30-April 5), they were complying at rates similar to other regions. The largest declines in compliance to date were in the Northeast -- which also saw the highest compliance rate of any region (70%) -- and in the South.
If public health officials recommended that everyone stay at home for a month because of a serious outbreak of coronavirus in your community, how likely are you to stay home for a month? (% Very likely)
Northeast
Midwest
South
West

%

%

%

%

Mar 13-15
46
47
37
37
Mar 16-22
57
48
53
58
Mar 23-29
64
60
63
65
Mar 30-Apr 5
70
66
66
66
Apr 6-12
64
62
64
66
Apr 13-19
64
64
60
63
Gallup Panel
While some groups protested stay-at-home orders, calling for a reopening of the economy and for an end to the limits of social distancing, and support for stay-at-home orders indeed fell, the decline was mild and did not change the broader picture that more than six in 10 Americans continued to say they would be willing to comply with public health officials' guidance.
Learn more about how the Gallup Panel works.