WASHINGTON, D.C. -- Topping the agenda for Indian Foreign Minister Pranab Mukherjee's Washington visit this week was the fate of the much-anticipated U.S./India civilian nuclear deal -- a deal that few Indians, according to a Gallup survey of India, said they were familiar.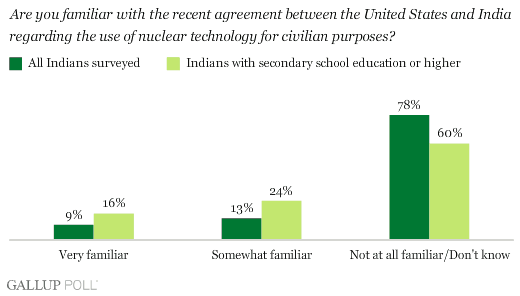 Just 22% of Indians surveyed told Gallup in a 2007 poll that they were "very" (9%) or "somewhat" (13%) familiar with the proposed agreement. Respondents with a better education were only slightly more likely to claim some familiarity with the deal -- 40% of those with secondary educations or higher said they were very (16%) or somewhat (24%) familiar with it. The low level of public awareness offers little hope for a groundswell of grassroots pressure to move forward with the agreement, which is currently gridlocked by political opposition.
If passed, the landmark deal would signal India's reentry into the global market for civilian nuclear power, which the Indian government sees as an essential step to ensuring that it can meet the energy needs of the country's rapidly growing economy. But India's communist parties oppose the agreement because it would make the country too reliant on the United States. Though small, these parties have enough representation in the Indian parliament to seriously undercut the ruling Congress Party.
U.S. leaders have been pressuring the Indian government to break the impasse over the deal so the U.S. Congress can give final approval prior to the November presidential election. However, the Indian government has rejected a fixed timeline, insisting that it needs time to achieve broad political consensus.
The 2007 Gallup Poll suggests that efforts to make a broader segment of the Indian public aware of the agreement might make consensus more likely by raising the level of popular support for the deal. Among those Indians who indicated they were at least somewhat familiar with the agreement, 57% said the deal would be a "good thing" for India, while 22% said it would have "no impact" on the country, and 10% said it would be a "bad thing" for India.
Survey Methods
Results are based on face-to-face interviews with 3,186 adults in India, aged 15 and older, conducted in April and May 2007. For results based on the total sample of adults, one can say with 95% confidence that the maximum margin of sampling error is ±2 percentage points.