PRINCETON, NJ -- Gallup Daily economic data aggregated on a monthly basis show that job creation in August is just not taking place in the U.S. economy. While Gallup data for the month also show a slight moderation in job loss, this is not sufficient to take up the slack for a 35% decline in the rate of job creation compared to a year ago. And, while confidence in the future direction of the U.S. economy is at its highest level in 20 months, Gallup data also show a continued delinking of consumer spending -- which is down 33% from a year ago.
What Happened
Job Creation was unchanged in August, with 24% of employees saying their companies were hiring, as was the case in July -- and once again within the 23%-24% range that has held throughout 2009. However, the gap between job creation and job loss did close slightly, as 25% of Americans said their companies were letting people go -- a slight improvement from the 26% of the previous three months. While Gallup data show fewer employees being laid off this summer than earlier in the year, the percentage of Americans reporting that their companies are hiring is down 35% from the same month a year ago.

Consumer Confidence hit a new high for the year in August and its highest level since Gallup Daily tracking began in January 2008, as the percentage of Americans saying the economy is "getting better" reached 39% for the month. Confidence is up from 33% during July and 16% a year ago. Still, even as confidence increases, 45% of consumers rate current economic conditions as "poor" -- not much different from the 43% of a year ago. Consumers continue to believe the economy is improving, but -- at least to this point -- they don't seem to see the improvement in their daily lives.

Consumer Spending

improved slightly in August, as self-reported average daily spending in stores, restaurants, gas stations, and online increased by $3 per day. Still, spending over the first eight months of 2009 remains in a tight $6 range of $59 to $65, with August spending down 33% from the $97 daily average of a year ago. This lack of spending improvement even as confidence has improved dramatically since the beginning of the year seems to reflect

a "new normal" in consumer spending

.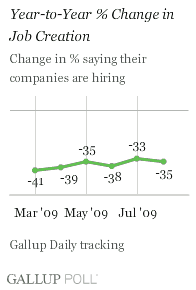 What to Watch For
Gallup's job-market data suggest job creation remains a major challenge for the U.S. economy. Wednesday's ADP jobs report showing that employers cut 298,000 private-sector jobs in August seemed to surprise the market but aligns well with what employees are telling Gallup on a daily basis. Right now, the job market apparently continues to deteriorate and the real unemployment rate continues to increase, regardless of what the Labor Department reports on Friday morning.
In this regard, it may be too soon to put too much faith in the recent increases in consumer confidence. Gallup's data have shown that consumer spending has remained decoupled from consumer confidence throughout 2009. Spending over the first eight months has remained flat and at this point there is no sign of a change.
It may be that the current inventory- and "clunker"-driven economic upturn will be a "jobless" recovery. It is possible that government and business spending alone can drive economic improvement for a short period of time. However, without significant job creation, it is hard to see how consumer spending will increase; how many retailers will survive after the Christmas holidays; and how the economic recovery will be maintained into early 2010.
Survey Methods
For Gallup Poll Daily tracking, Gallup interviews approximately 1,000 national adults, aged 18 and older, each day. The Gallup consumer perceptions of the economy and consumer spending results are based on random half-samples of approximately 500 national adults, aged 18 and older, each day. The Gallup job creation and job loss results are based on a random half sample of approximately 250 current full- and part-time employees each day. For the total samples of these surveys, one can say with 95% confidence that the maximum margin of sampling error is ±3 percentage points.
Interviews are conducted with respondents on land-line telephones (for respondents with a land-line telephone) and cellular phones (for respondents who are cell-phone only).
In addition to sampling error, question wording and practical difficulties in conducting surveys can introduce error or bias into the findings of public opinion polls.