PRINCETON, NJ -- Wall Street and Main Street continue to diverge, with economic confidence declining even as the Dow Jones surges. Gallup's Economic Confidence Index last week fell to a 15-week low, the job situation didn't improve, and consumer spending remains down 34% from the same week a year ago. A 26-year high in the unemployment rate and a new 2009 high in gas prices seem to have more than offset any potential economic confidence benefits associated with the gains in the Dow.
What Happened (Week Ending Nov. 8)
Economic Confidence fell during the first week of November as Gallup's Economic Confidence Index worsened to -31 -- its most pessimistic reading since the week ending July 26. The deterioration in consumer confidence is partly due to more pessimistic assessments of the current economy, with 49% of consumers rating the economy "poor" -- worse than the prior week (45%) and a month ago (47%). Consumers are also more pessimistic about the economic outlook over the next 12 months, with 59% saying the economy is "getting worse," compared to 55% the previous week and 56% a month ago. The percentage of Americans describing the economy as "getting better" (now 36%) declined by four points from the prior week.

Job Creation was essentially unchanged last week, with Gallup's Job Creation Index at +2, compared to +3 the prior week and a month ago. The percentage of employees saying their companies are hiring was 25% -- down one point from the prior week and two points from a month ago -- while 23% continued to say their companies are letting people go, unchanged from the prior two weeks. Job-market conditions remain about the same as they were during October and continue to reflect a reduction in layoffs without a significant improvement in hiring.

Consumer Spending was essentially unchanged, as self-reported daily spending in stores, restaurants, gas stations, and online averaged $65 last week -- compared to $67 the prior week. Spending the past two weeks has been affected as the month-ending pay period extended across those two weeks. As a result, the usual "paycheck effect" affected not only the week ending Nov. 1 but also the early part of last week. Regardless, despite last year's easier comparables, consumer spending last week trails that of the same week a year ago by 34%.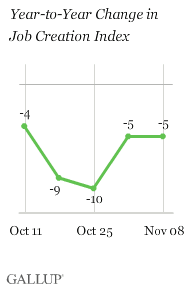 What to Watch For
According to the consensus, the Reuters/University of Michigan Consumer Sentiment Index will increase slightly when it is reported on Friday, particularly given the decline of sentiment in October and the recent surge of the Dow Jones average past 10,000. However, Gallup Daily tracking suggests that consumer sentiment actually declined in early November compared to October, as Gallup's Economic Confidence Index worsened to -31 in the first week of this month, from an average of -28 in October. While part of this decline probably results from today's double-digit unemployment rate, higher gas prices may also be playing a role. Prices at the pump have increased steadily during much of 2009 and now exceed prices of a year ago.
The fact that the U.S. unemployment rate has now reached a 26-year high is likely to focus increased attention on Thursday's jobless claims report. Since peaking earlier this year, jobless claims have declined steadily, with Gallup's Job Creation Index showing steady improvement. This has been consistent with the inverse relationship between these measures. In this regard, Gallup's Job Creation Index suggests that jobless claims are likely to increase this week while the consensus expectation is that they will be unchanged. Although weekly changes in jobless claims tend to be small and hard to predict, job creation clearly remains anemic and the real unemployment rate continues to suggest that more than one in five Americans are currently unemployed or underemployed.
Given these trends on Main Street -- declining economic confidence and anemic job creation -- it seems likely that increasing attention will be focused on the way Wall Street continues to decouple itself from conditions in the overall economy -- the economic fundamentals. While today's Wall Street gains may be more apparent than real for many investors given the declining value of the dollar, the recent bailout of Wall Street firms may make such gains unacceptable in the eyes of much of the public.
Similarly, many may argue that unemployment is a lagging economic indicator, but a two-year recession with seemingly little immediate prospects for increasing job creation is likely to produce new pressures for the federal government to act.
Review and export the complete daily trends on these measures: Economic Indexes; Consumer Spending; Economic Outlook; Economic Conditions; Job Market
Learn more about Gallup's economic measures.
Survey Methods
For Gallup Daily tracking, Gallup interviews approximately 1,000 national adults, aged 18 and older, each day. The Gallup consumer perceptions of the economy and consumer spending results are based on random half-samples of approximately 500 national adults, aged 18 and older, each day. The Gallup job creation and job loss results are based on a random half sample of approximately 250 current full- and part-time employees each day. Results from the week of Nov. 2-8, 2009, are based on telephone interviews with 3,379 adults for the consumer perceptions and spending questions. For these results, one can say with 95% confidence that the maximum margin of sampling error is ±2 percentage points. Results for the job creation and job loss questions are based on interviews with 1,967 employees, with a maximum margin of error of ±3 percentage points.
Interviews are conducted with respondents on land-line telephones and cellular phones.
In addition to sampling error, question wording and practical difficulties in conducting surveys can introduce error or bias into the findings of public opinion polls.