WASHINGTON, D.C. -- Given the severe global economic downturn, optimism in is in short supply among many of the export-reliant nations in Asia. Sri Lanka is an exception. Although they are suffering financially as are residents in many other countries in the region, the number of Sri Lankans who believe their economy is getting better increased dramatically in the past year -- jumping from 36% in 2008 to 64% in 2009.
It is likely, however, that heightened expectations after the end of the decades-long civil war, rather than improving economic conditions, are spurring such optimism. Economic growth has slowed considerably in Sri Lanka, from 6% in 2008 to a projected 3.5% this year. Last May, after more than 25 years of violence between the Sinhalese majority government and ethnic minority Tamil Tigers, the Sri Lankan government announced it had defeated the Liberation Tigers of Tamil Eelam (LTTE) and killed its leader Velupillai Prabhankaran. Although a flurry of stock market activity and foreign investment in government securities followed the announcement, long-term growth in Sri Lanka still depends on internal stability and global economic recovery. But, with the war behind them, Sri Lankans' optimism and confidence is strengthening on many fronts.
According to a Gallup survey conducted in Sri Lanka in May just as the war ended, confidence in national government increased significantly among all Sri Lankans from 72% in 2008 to 92% in 2009. Trust also climbed 15 percentage points in the Northeast region where violence had been the fiercest. Although Gallup collected fewer interviews in Northeast Sri Lanka than in other regions of the country (105 interviews were collected in 2008 and 135 interviews in 2009), these data indicate a statistically significant increase in confidence toward the national government.
More confidence in the rule of law may be another example of a positive outcome of the government's defeat of LTTE. Trust in Sri Lanka's judicial system and the courts has increased significantly overall from 74% in 2008 to 81% in 2009, including some improved confidence in three out of four regions. Support for the judicial system remains strong in South Central Sri Lanka -- 85% for the past two years.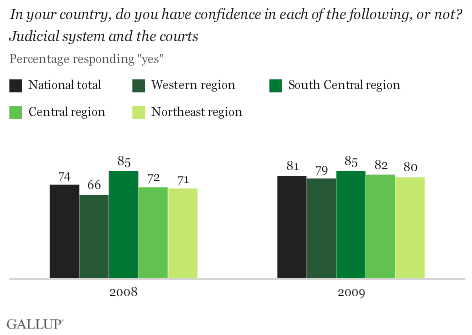 Confidence in the nation's military continues at near universal high levels. The majority of Sri Lankans have expressed trust in their armed forces since Gallup began tracking this measurement by region in 2007, several years before the war ended. Ninety-two percent of the population had confidence in the military that year, rising to 95% in 2009. Even in Sri Lanka's Northeast region, confidence in the military has risen substantially -- from 49% in 2007 to 73% this year.
Last Sunday, the retired Sri Lankan Army Gen. Sarath Fonseka, who led the long-awaited military victory against the Tamil Tigers, announced he will run against the incumbent President Mahinda Rajapaksa in January elections. With trust in the military at peak levels, it will be interesting to see if such confidence translates into an advantage for the military candidate.
For complete methodology and specific survey dates, please review Gallup's Country Data Set details.
Survey Methods
Results are based on face-to-face interviews with 1,000 adults, aged 15 and older, conducted in May 2007, May 2008, and May 2009. For results based on the total sample of national adults, one can say with 95% confidence that the maximum margin of sampling error ranged between ±3.3 and ±4.1 percentage points. For regional breakdowns, the maximum margin of sampling error can be as high as ±12 percentage points. The margin of error reflects the influence of data weighting. In addition to sampling error, question wording and practical difficulties in conducting surveys can introduce error or bias into the findings of public opinion polls.
The ongoing conflict in the North and East provinces of Sri Lanka limited Gallup's polling in these core combat areas. Thus, attitudes reported here are those of approximately 90% of Sri Lankans living outside the war zone. Provinces in each region include Western: Western Province; South Central: Southern and Central Provinces; Central: North Central, North Western, Uva, and Sabaragamuwa Provinces; and Northeast: North and East Provinces.