WASHINGTON, D.C. -- Gallup surveys in Kyrgyzstan reflect the ethnic tensions that sparked recent deadly riots in the South, home to the country's Uzbek minority. In 2009, 40% of residents living in southern Kyrgyzstan said their city or area is a good place for racial and ethnic minorities, while 61% living in the North said the same. Nationwide, fewer Kyrgyzstanis perceived tolerance of ethnic minorities in 2009 than in 2008, with the deterioration coming exclusively in the North, while perceptions remained unchanged in the South.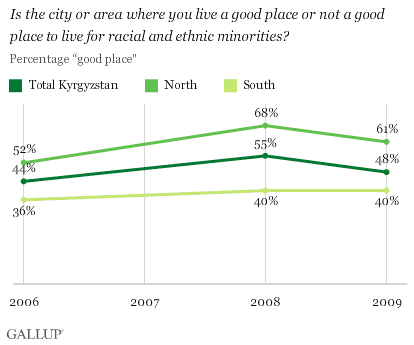 Surveys were conducted well before rioters in the southern region killed more than 170 people and caused more than 75,000 Uzbeks to flee the country in the past several days, but Gallup data document the divisions between the country's ethnic Kyrgyz and Uzbeks that have plagued the South for decades. The current violence comes more than a month after former President Kurmanbek Bakiyev was ousted and forced into exile, which has led some to suggest this was intended to disrupt the June referendum on constitution reform. Ethnic Uzbeks living in the South have supported the new government, while ethnic Kyrgyz have supported Bakiyev.
Bottom Line
The crisis in southern Kyrgyzstan is rooted in a complex mix of ethnic, political, and class-based divisions. Violence in the region has started to subside, leading Kyrgyz interim leader Roza Otunbayeva to drop her request for an external peacekeeping force. However, the question remains as to whether the Kyrgyz government will be able to handle the humanitarian disaster created by tens of thousands of displaced ethnic Uzbeks.
For complete data sets or custom research from the more than 150 countries Gallup continually surveys, please contact SocialandEconomicAnalysis@gallup.com or call 202.715.3030.
Survey Methods
Results are based on face-to-face interviews with approximately 1,000 Kyrgyzstani adults, aged 15 and older, conducted June 13-July 10, 2009. For results based on the total sample of national adults, one can say with 95% confidence that the maximum margin of sampling error is ±4 percentage points. In addition to sampling error, question wording and practical difficulties in conducting surveys can introduce error or bias into the findings of public opinion polls.