WASHINGTON, D.C. -- Thirty-five percent of adults in 12 former Soviet nations say they would like to migrate to another country -- either permanently, for temporary work, or for study or work study -- if they had the opportunity. They express the most interest in moving to Russia, Germany, the United States, and the United Kingdom, but each nation's popularity depends on people's motives for migrating.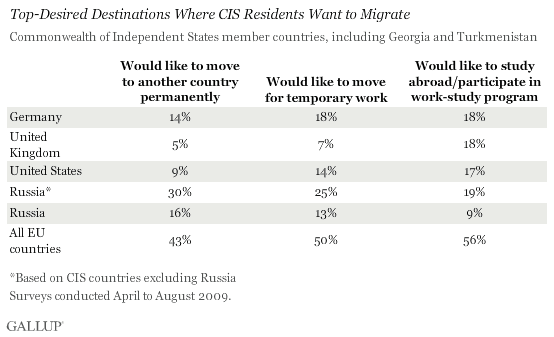 Gallup in 2009 asked people in 10 Commonwealth of Independent States (CIS) member countries, associate CIS member Turkmenistan, and former CIS member Georgia about these three types of migration and where they'd like to go. Adults across the region are more likely to desire to migrate internationally for temporary work (24%) or for study and work-study programs (25%) than to migrate permanently (13%).
Russians and residents of the country's former republics share a long history, knowledge of the Russian language, and social networks. It is not surprising that those in the region who desire to migrate are most likely to want to move to Russia permanently or for temporary work (excluding Russians because they already live there).
It is surprising that Russia doesn't overshadow other countries even more. Russia essentially ties Germany, the United Kingdom, and the United States as the top draw for those who would like to go to other countries to study or take part in work-study programs. Further, regardless of the type of migration asked about, potential migrants express the most interest in relocating to the European Union (EU).
But Gallup's findings also show these countries don't necessarily attract the same people.
Most Educated Least Likely to Settle Permanently in Russia
Potential migrants who would resettle in Russia permanently are less likely to be highly educated, which may be bad news, as many businesses there are already experiencing shortages of skilled and qualified labor. Education levels vary far less among potential migrants who choose different destinations.
Unlike prospective migrants who desire to move to other countries, who tend to be younger than 25, the ones who would like to relocate to Russia tend to be in their late 40s or older. It's possible that these older people may be looking forward with uncertainty and reflecting nostalgically on the Soviet Russia they grew up with.
Russia, Germany, U.S. Favored for Temporary Work
Potential migrants who would like to move for temporary work favor Russia (25%), Germany (18%), and the U.S. (14%) over the United Kingdom (7%). People who would like to move to Germany or the EU to work temporarily are more likely to be better educated, while those who would like to move to the United States or Russia for this reason tend to be less educated.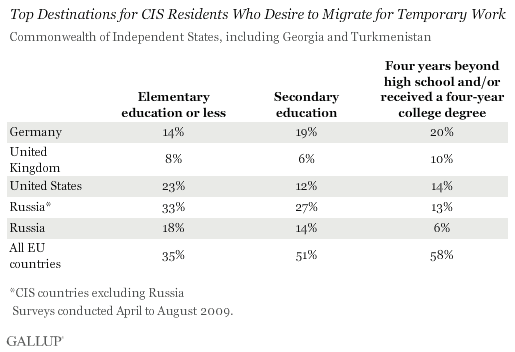 Potential migrants in this region are least likely to want to go to the United Kingdom for temporary work, but they do want to go there to study. This desire may be a resource the United Kingdom has yet to fully tap. Education is one of the United Kingdom's most important export industries, but according to the UK Council for International Student Affairs, no CIS country makes the top 10 list of countries sending students there.
United States, Russia, and United Kingdom Attract Less-Educated Prospective Students
Different prospective students are attracted to different countries. Potential migrants who desire to move to the United States, Russia, and the United Kingdom for study or work study are less educated and younger than 25. Aspiring students who would like to go to Germany and the EU in general are more educated and older.
It is important to note that while Russia is among the top-desired destinations for study, it may be losing some of its appeal as an educational center among its former compatriots. Potential migrants in the region (Russian residents excluded) are less interested in moving to Russia to study (19%) than moving there for temporary work (25%) or permanently (30%).
Implications
Overall, potential migrants in the former Soviet Union countries studied are most likely to say they would like to move to Russia, EU countries, and the United States if they could. But Gallup's findings also show that these countries do not attract them for the same reasons or attract the same people.
Taken together, this intelligence can help migrant-receiving countries -- particularly Russia, which is in the midst of a population and labor crisis -- identify untapped pools of talent for the classroom or the workplace. It can also help migrant-sending countries in the region identify the talent they may lose. Within the region, desired destinations vary by country and by type of migration, which makes studying each country's unique tendencies even more important for policymakers.
For complete data sets or custom research from the more than 150 countries Gallup continually surveys, please contact SocialandEconomicAnalysis@gallup.com or call 202.715.3030.
Survey Methods
Results are based on 13,200 face-to-face interviews with adults, aged 15 in older, conducted in 2009. A minimum of 1,000 interviews were conducted in each of the following countries: Armenia, Azerbaijan, Belarus, Georgia, Kazakhstan, Kyrgyzstan, Moldova, Russia, Tajikistan, Turkmenistan, Ukraine, and Uzbekistan.
For results based the total sample and subgroups, one can say with 95% confidence that the margin of error is between ±1 and ±2 percentage points. The margin of error reflects the influence of data weighting. In addition to sampling error, question wording and practical difficulties in conducting surveys can introduce error or bias into the findings of public opinion polls. Results are projected to the total population of each country, aged 15 and older, using 2008 World Bank population estimates.