WASHINGTON, D.C. -- Many North Africans wanted to leave their countries before unrest in the region prompted thousands to do so this year, according to Gallup surveys in late 2010. Twenty-six percent of North African adults said they would choose to move to another country permanently if they had the chance. Fourteen percent of these potential migrants said they planned to move in the next year.
Since the "Arab Spring" began, an estimated 25,000 mostly Tunisian migrants have fled to Europe to escape the unrest or economic conditions at home only to find themselves in the middle of a battle over open borders in the European Union. Italy -- where most of these migrants are entering the EU -- and France -- where most migrants are reportedly headed -- are at odds on how to deal with the influx. Both are calling for reform of the EU's Schengen border-free travel agreement.
Before some of the barriers that limited people from migrating from Tunisia fell with President Zine el-Abidene Ben Ali's ouster in January, nearly 3 in 10 Tunisian adults (28%) said they would like to migrate permanently to another country. Desire to migrate was similar in other North African countries such as Algeria (31%) and Libya (27%), and slightly lower in Egypt (24%) and Morocco (24%).
France, Saudi Arabia Popular Desired Destinations
Potential migrants in Tunisia, Algeria, and Morocco were most likely to say they would like to permanently move to a European country -- France in particular -- if they could move anywhere. This preference likely reflects these nations' historical and linguistic ties to France, and the likelihood that people in these countries have family or other people they count on in France. Among those who say they have people they can count on in other countries, 75% of Algerians, 60% of Tunisians, and 50% of Moroccans say these people live in France.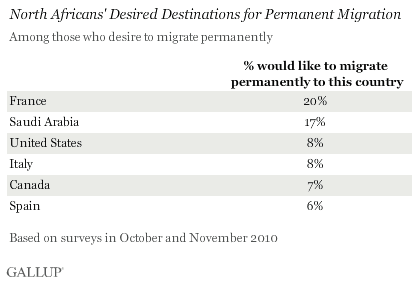 In Libya and Egypt, potential migrants appear to have closer affinity to Gulf countries, where they were most likely to say they would like to move. They rarely mentioned France and other European countries as a desired destination. Adults in Libya and Egypt were more likely to say the family members or other people they rely on in other countries live in Saudi Arabia and elsewhere around the Gulf, reinforcing the importance of social networks.
Temporary Work May Be Stepping Stone
Many adults who wanted to migrate for temporary work also wanted to migrate permanently, which is why it is important to consider both groups together. Gallup surveys in Tunisia in early 2010 show that 32% of Tunisian adults said they would like to migrate for temporary work or permanently. Breaking this down further, however, 3% wanted to go for temporary work and did not want to move permanently, while 17% wanted to go for both and 12% wanted to make a permanent move but not one for temporary work. These data suggest that many are using temporary work as a stepping stone to settle down permanently.
Implications
While Gallup's data reflect the situation in North Africa before the unrest and not the current situation on the ground, they do provide some insight into people's desires for permanent and temporary migration that can be useful going forward. In other regions that are heavily dependent on temporary work, such as the Commonwealth of Independent States, people are twice as likely to want to move for temporary work as to make a permanent move to another country. Policymakers need to consider that potential migrants in North Africa are different: Many may want to come for temporary work, but they may also want to stay much longer.
For complete data sets or custom research from the more than 150 countries Gallup continually surveys, please contact SocialandEconomicAnalysis@gallup.com or call 202.715.3030.
Survey Methods
Results are based on face-to-face and telephone interviews conducted in 2010 with approximately 1,000 adults, aged 15 and older, in five North African countries. For results based on the total sample in each country, one can say with 95% confidence that the maximum margin of sampling error ranges from ±3.1 percentage points to ±3.7 percentage points. The margin of error reflects the influence of data weighting. In addition to sampling error, question wording and practical difficulties in conducting surveys can introduce error or bias into the findings of public opinion polls.
For more complete methodology and specific survey dates, please review Gallup's Country Data Set details.