This is the first of two articles that will investigate Venezuelans' attitudes in 2013. The next piece will focus on opinions regarding national leadership, national institutions, and corruption.
WASHINGTON, D.C. -- Signs of the frustration and anger on display in Venezuela's streets in February were evident late last year as Venezuelans' ratings of their lives deteriorated to their worst levels in years. The percentage of Venezuelans who rated their lives positively enough to be considered "thriving" dropped sharply to 45% in 2013 from 57% the previous year.
Gallup classifies respondents as "thriving," "struggling," or "suffering" according to how they rate their current and future lives on a ladder scale with steps numbered from zero to 10 based on the Cantril Self-Anchoring Striving Scale. People are considered thriving if they rate their current lives a 7 or higher and their lives in five years an 8 or higher. People are considered suffering if they rate their current lives and future lives a 4 or lower.
Venezuela's inflation-ravaged economy during President Nicolas Maduro's first year in office is a major source of residents' discontent. Inflation in 2013 was among the highest in the world, topping 56%. Basic goods are more expensive and increasingly difficult to find, with shortages of basic goods from milk to medicine commonplace. This situation pushed Venezuelan pessimism about the nation's economy in 2013 to an all-time high -- 62% of Venezuelan adults said the economy is getting worse, while a record-low 12% said it was getting better.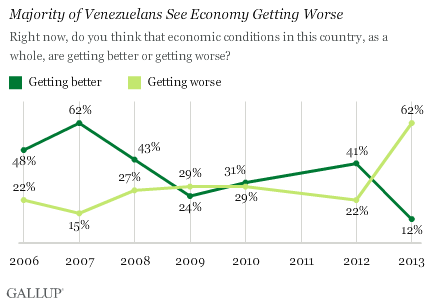 A careening economy, in turn, is affecting Venezuelans' views of their own living standards. The percentage of Venezuelans saying their standard of living is getting better also hit a record low of 33% in 2013. This is down from 54% in 2012 and half the 68% who thought their situations were improving in 2007.
Safety a Growing Problem in Venezuela
Venezuela's high crime rate is another issue contributing to residents' angst. The country has one of the highest murders rates in the world, creating a climate of fear and a permanent sense of insecurity. In 2013, the percentage of Venezuelans who felt safe walking alone in their neighborhoods at night dropped from 26% in 2012 to 19% -- a record low for the country and the lowest percentage in the world. This is well below the average for Latin America, which stood at 42%, a figure that itself is low by global standards.
Bottom Line
Recent protests in Venezuela seem to be the result of various deteriorating conditions, including a struggling economy and one of the highest violent crime rates in the world. The government's reaction to the protesters is adding a new dark and explosive element to the situation -- human rights violations.
Even as political arrests intensify and injuries and deaths mount, Venezuelans remain on the street, making their voices heard. The reasons for their persistence are clear from Gallup's 2013 World Poll data - they see their lives and the economy getting worse, and they feel less secure than ever in their own neighborhoods.
For complete data sets or custom research from the more than 150 countries Gallup continually surveys, please contact us.
Survey Methods
Results are based on face-to-face interviews with about 1,000 adults, aged 15 and older, conducted in Sept. 26- Oct. 25, 2013, in Venezuela. For results based on the total sample of national adults, the margin of sampling error is ±3.9 percentage points at the 95% confidence level. The margin of error reflects the influence of data weighting. In addition to sampling error, question wording and practical difficulties in conducting surveys can introduce error or bias into the findings of public opinion polls.
For more complete methodology and specific survey dates, please review Gallup's Country Data Set details.