PRINCETON, NJ -- Gallup's Job Creation Index shows that U.S. employees' self-reports of hiring and firing activity at their workplaces were essentially unchanged in December at +10, marking the third consecutive month without improvement -- but also remaining in double-digit territory not seen since October 2008. The Midwest continues to lead the way at +17, with the East at +7 and the West at +6 trailing behind.
Hiring and Letting Go Nationwide Are Flat
Twenty-nine percent of employees nationwide tell Gallup their companies are hiring, and 19% say they are letting go. The resulting Job Creation Index of +10 for December is essentially the same as the +11 of November and the +10 of October.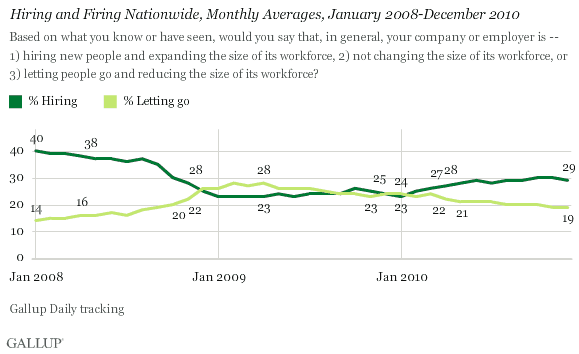 While job market conditions nationwide have been relatively stable over the past few months, some regions are doing better than others. The Midwest continues to improve even as it is doing comparatively better than the others. At the same time, job conditions in the East declined in December and now join the West in trailing the other regions.
Midwest Continues to Improve
Hiring in the Midwest remained at 32% for the second month in a row in December. The firing percentage fell to 15%. As a result, the region's Job Creation Index score increased to +17 in December from +15 in November and +11 in October. The manufacturing sector continues to improve as does the farm sector and the production of other commodities in response to growing export demand. As a result, job conditions in the Midwest are now as good as they have been at any time since August 2008.
South Job Market Stable but Falling Further Behind the Midwest
Although job conditions in the South have been relatively flat over the past four months, they are second best among the regions. December hiring is at 30% and firing at 19%. Job conditions in the South may reflect some recovery from the effects of the BP oil spill and the continued growth of U.S. exports. The South has experienced the best job market conditions of any region over most of the past three years, but it has lost that mantle to the Midwest during recent months.
East Job Market Conditions Decline in December
Job conditions in the East declined in December with 28% of employers hiring and 21% letting employees go -- down from 31% and 20%, respectively, for the past three months. While there appears to be a return to stability and good earnings on Wall Street and in the U.S. financial sector, jobs do not seem to be reflecting such improvements fully at this point. Job conditions in the East are now closer to those in the West than in the South.
West Continues to Trail Other Regions
Hiring and firing in the West continues to trail that of other regions in the nation, with 26% of companies hiring and 20% letting employees go. Conditions in the West have not improved since summer and continue to reflect some of the worst housing and real estate market conditions in the U.S.
Implications
In contrast to the government's unemployment reports, U.S. employees' self-reports of hiring and firing activity at their workplaces suggest job market conditions remained relatively stable over the last three months of 2010. Gallup's Job Creation Index implies hiring and firing conditions are much better today than they were a year ago, even though overall job creation remains anemic.
At the same time, the data show that the U.S. job situation is uneven at best. There has been and continues to be real job creation progress in the Midwest. U.S. efforts aimed at stimulating exports seem to be gaining some traction and jobs are being created. On the other hand, these gains in the Midwest were offset by a deterioration of job creation in the East and no improvement in the South or West.
Private-sector job creation must be the top priority for the nation going forward if the U.S. economy is going to achieve a sustainable economic recovery. In this regard, it may be valuable to study the recent job creation success in the Midwest and contrast it with the lack of success in the East and the West.
Survey Methods
For Gallup Daily tracking, Gallup interviews approximately 1,000 national adults, aged 18 and older, each day living in all 50 U.S. states and the District of Columbia, selected using random-digit-dial sampling. The Gallup Job Creation Index results are based on a random sample of approximately 500 current full- and part-time employees each day.
National results for December are based on Gallup Daily tracking interviews with 14,407 employees. For this sample, one can say with 95% confidence that the maximum margin of sampling error is ±1 percentage point. Regional results for December are based on interviews totaling more than 3,000 in each region. For each total regional sample, the maximum margin of sampling error is ±3 percentage points.
Interviews are conducted with respondents on landline telephones and cellular phones, with interviews conducted in Spanish for respondents who are primarily Spanish-speaking. Each daily sample includes a minimum quota of 150 cell phone respondents and 850 landline respondents, with additional minimum quotas among landline respondents for gender within region. Landline respondents are chosen at random within each household on the basis of which member had the most recent birthday.
Samples are weighted by gender, age, race, Hispanic ethnicity, education, region, adults in the household, cell phone-only status, cell phone-mostly status, and phone lines. Demographic weighting targets are based on the March 2009 Current Population Survey figures for the aged 18 and older non-institutionalized population living in U.S. telephone households. All reported margins of sampling error include the computed design effects for weighting and sample design.
In addition to sampling error, question wording and practical difficulties in conducting surveys can introduce error or bias into the findings of public opinion polls.
For more details on Gallup's polling methodology, visit https://www.gallup.com/.