WASHINGTON, D.C. -- Smoking and obesity -- two factors known to increase the risk for chronic health problems -- are significant health challenges for the United Kingdom. More than one in four British adults smoke and one in four are obese, likely putting a strain on the country's healthcare system.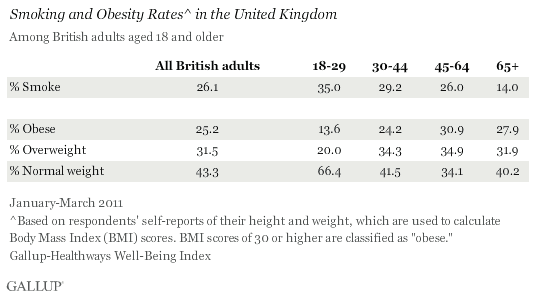 Obesity rates in the U.K. increase into middle age, with 45- to 64-year-old Britons most likely to be obese (30.9%), before declining slightly in the 65-plus age range. Smoking rates, on the other hand, decreases with age. Young adults are the most likely to say they indulge in the habit, with 35.0% saying so.
These findings, encompassing the first three months of Gallup-Healthways Well-Being Index tracking in the United Kingdom, reveal that Britons are nearly as likely as Americans to be obese and are more likely to smoke.
High Blood Pressure, Depression Most Widespread Chronic Illnesses in U.K.
Obesity and smoking are linked to various chronic conditions, including high blood pressure, high cholesterol, diabetes, and even depression.
Two in 10 British adults report having high blood pressure, making it the most prevalent of seven chronic conditions the Gallup-Healthways Well-Being Index tracks in the U.K. Depression diagnosis is the second most frequently reported chronic illness at 16.9%, followed by high cholesterol at 15.4%.
Additionally, high blood pressure, high cholesterol, and diabetes -- mostly preventable conditions -- increase with age.
Half of Britons Exercise Frequently
Frequent physical activity is a key way to reduce or prevent obesity and chronic health problems, but many Britons are not engaging in it. About half of British adults, 49.5%, say they exercise for 30 minutes or more three or more days a week. This figure is slightly lower among those aged 30 to 44 (48.2%) and 45 to 64 (46.4%). The U.K.'s National Health Service (NHS) recommends 30 minutes of moderate-intensity physical activity at least five days per week.
Britons do somewhat better at healthy eating, with 66.1% saying they eat five or more servings of fruits or vegetables four or more days per week and 69.3% reporting they ate healthy all day "yesterday." Healthy eating in the U.K., unlike frequent exercise, improves with age.
Implications
British adults face numerous health challenges. Chronic health conditions, including high blood pressure, high cholesterol, and diabetes, afflict a significant proportion of Britons. Obesity and smoking rates are also high, with the former about on par with and the latter exceeding what the Gallup-Healthways Well-Being Index found in the U.S.
At a time when the U.K.'s state-funded NHS is grappling with budgetary pressures from an aging population and increasing costs of care, these data provide insight into potential pathways to decrease costly, chronic health issues and, in turn, healthcare costs.
The Gallup-Healthways Well-Being Index, launched in January of this year in the U.K. to track Britons' well-being on an ongoing basis, reveals at least one clear way for Britons to improve their health and decrease chronic disease risk factors: more exercise. The Well-Being Index also highlights that different health strategies are needed for different age groups. Stop-smoking policies targeted at young British adults and exercise programs geared toward the middle aged could go a long way in curbing the rates of many chronic diseases in the country.
As the British government pushes for an extensive overhaul of NHS, the Gallup-Healthways Well-Being Index provides healthcare decision makers with in-depth data they can use to design strategies to prevent and address long-term health issues that affect Britons' quality of life and pocketbook.
View all Gallup-Healthways Well-Being Index questions and methodology.
About the Gallup-Healthways Well-Being Index
The Gallup-Healthways Well-Being Index tracks U.S. well-being and provides best-in-class solutions for a healthier world. To learn more, please visit well-beingindex.com.
For complete data sets or custom research from the more than 150 countries Gallup continually surveys, please contact SocialandEconomicAnalysis@gallup.com or call 202.715.3030.
Survey Methods
Results are based on telephone interviews conducted as part of the Gallup-Healthways Well-Being Index survey Jan. 2-March 31, 2011, with a random sample of 3,933 adults, aged 18 and older, living in the United Kingdom, selected using random-digit-dial sampling.
For results based on the total sample of national adults, one can say with 95% confidence that the maximum margin of sampling error is ±1.8 percentage points.
Interviews are conducted with respondents on landline telephones and cellular phones. Each daily sample includes a minimum quota of 5 cell phone respondents and 29 landline respondents, with additional minimum quotas among landline respondents for gender within region. Landline respondents are chosen at random within each household on the basis of which member had the most recent birthday.
Samples are weighted by gender, age, education, region, adults in the household, and cell phone status. Demographic weighting targets are based on the most recently published population data from the Census Bureau for Northern Ireland, Scotland, England, and Wales. All reported margins of sampling error include the computed design effects for weighting and sample design.
In addition to sampling error, question wording and practical difficulties in conducting surveys can introduce error or bias into the findings of public opinion polls.
For more details on Gallup's polling methodology, visit www.gallup.com.