This article is part of a series of U.S. Foreign Policy Opinion Briefings aimed at helping to inform U.S. leaders on pressing foreign policy issues.
Quick Summary: Europeans' and Americans' confidence in their financial institutions has followed a similar trajectory throughout the global economic crisis, demonstrating how much events on one side of the Atlantic matter on the other. In 2011, 47% of Americans were confident in their financial institutions and banks, compared with a median of 43% across the EU.
Issue at Hand: The International Monetary Fund (IMF) last week predicted the eurozone economy would contract by 0.5% in 2012. Europe continues to struggle financially and politically, as the rift widens between recovering economies in the North and West and the still-struggling South. The possibility of Greece defaulting and frail economies in Italy, Spain, and Portugal continue to weaken the eurozone.
IMF head Christine Lagarde said in a CNN interview last week that the euro crisis is a problem not only for European leaders but also for others around the world, as the impact spreads to economies beyond Europe. ". . . it's in the international community's interest, and in each country's interest, that the situation be remedied promptly and comprehensively," she said.
Obama Administration's Stance: President Barack Obama acknowledges the possible effects the euro crisis could have on the U.S. economy. "This [the crisis] is of huge importance to our own economy. If Europe is contracting or if Europe is having difficulties, then it's much more difficult for us to create good jobs here at home," Obama said in December.
Over the past year, Obama has continually reaffirmed his commitment to helping Europe navigate its sovereign debt crisis. The Federal Reserve has already made it cheaper for foreign banks to borrow U.S. dollars to stave off a financial meltdown.
But signs indicate that the Obama administration is growing impatient in the face of Europe's continuing troubles. In his State of the Union address in January, Obama scarcely mentioned Europe, except as one of the country's "oldest alliances," and focused more attention on economic and military ties in Asia. And last week at the World Economic Forum in Davos, Switzerland, U.S. Treasury Secretary Timothy Geithner warned that European leaders need to act first before they can expect more support from outside sources.
Confidence in Financial Institutions in Europe, U.S.: Europeans' confidence in their financial institutions changed little in most countries surveyed in 2010 and 2011, remaining at relatively low, post-economic crisis levels. Confidence increased slightly in a handful of countries, including Germany, but dropped significantly in Poland and Slovenia.
The situation is similar in the U.S. The post-crisis levels in the U.S. (47% in 2011, up slightly from 43% in 2010) are comparable to the EU medians -- 43% in 2011 and 45% in 2010.
In a majority of European countries surveyed, less than half of residents said in 2011 that they were confident in their financial institutions. In the most confident countries, including Luxembourg, Malta, Finland, and Denmark, about two in three residents were confident. Among the most negative were Ireland, Greece, Spain, and Hungary, where fewer than one in three had confidence.
In more than half of the European countries surveyed in 2008 and 2011, the 2011 confidence levels in financial institutions remained at least 10 points lower than those measured in 2008, before the financial and economic crisis. Again, the pattern is similar in the U.S. The 47% of Americans who were confident in 2011 is still 21 percentage points lower than the 68% who were confident in mid-2008.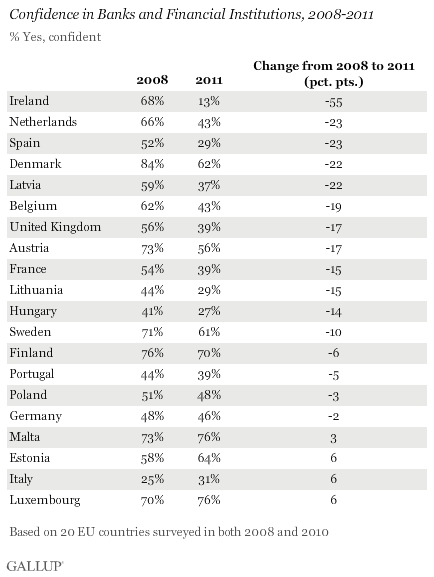 Exceptions were countries whose economies and societies proved more resilient to economic turmoil such as Finland, Germany, and Poland. On the other hand, there were a number of countries where confidence in financial institutions was already low, such as Italy and Portugal.
Policy Implications: The 2008 financial economic crisis eroded the public's confidence in banks and financial institutions on both sides of the Atlantic. Three years later, there appears to be little consensus on how economies and financial institutions should be managed, particularly in the hardest-hit countries.
Americans' lack of faith in their financial institutions and banks is not a positive sign for the U.S. economy's fragile recovery. But an unstable and weak economy in Europe may threaten it even more. The slow recovery of confidence in financial institutions may indicate that the 2008 financial meltdown shook public faith in financial institutions deeply, and it remains to be seen if and when the previous status quo will re-emerge. The good news for the U.S. and struggling EU economies alike is that the European countries that have managed to produce more economic growth and faster recovery also seem to have been able to regain the public's trust in financial institutions.
For complete data sets or custom research from the more than 150 countries Gallup continually surveys, please contact SocialandEconomicAnalysis@gallup.com or call 202.715.3030.
Survey Methods
Results are based on face-to-face and telephone interviews with approximately 1,000 adults in each EU member state between 2008 and 2011. For results based on each sample of national adults, one can say with 95% confidence that the maximum margin of sampling error ranged from a low of ±3.5 percentage points to a high of ±4.0 percentage points.
The margin of error reflects the influence of data weighting. In addition to sampling error, question wording and practical difficulties in conducting surveys can introduce error or bias into the findings of public opinion polls.
For more complete methodology and specific survey dates, please review Gallup's Country Data Set details.