PRINCETON, NJ -- Americans' confidence in public schools is down five percentage points from last year, with 29% expressing "a great deal" or "quite a lot" of confidence in them. That establishes a new low in public school confidence from the 33% measured in Gallup's 2007 and 2008 Confidence in Institutions polls. The high was 58% the first time Gallup included public schools, in 1973.
In addition to public schools, this year's Confidence in Institutions survey finds record lows, all by one percentage point, in Americans' confidence in the church or organized religion (44%), banks (21%), and television news (21%).
Gallup has asked Americans to say how much confidence they have in a variety of U.S. institutions since 1973, including annually since 1993.
Once again, Americans are most confident in the military (75%), which has finished first each year since 1989 except 1997, when small business edged it out. Small business, at 63%, is second this year. The police, at 56%, is third, and the only other institution of the 16 tested in which a majority of Americans express confidence.
At the other end of the spectrum, Congress ranks last with 13% confidence, followed by Health Maintenance Organizations at 19%.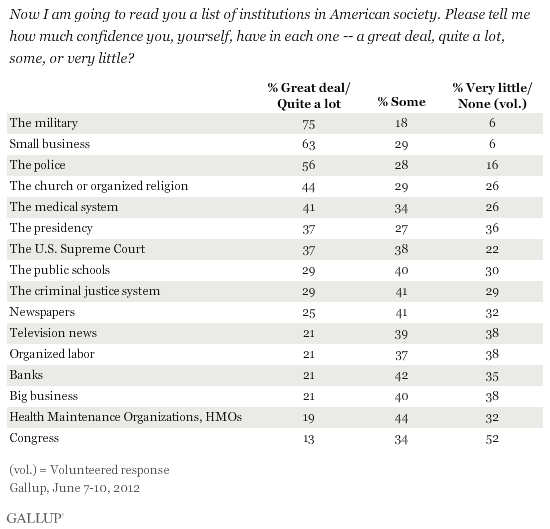 Congress has ranked last in confidence the last three years, including an 11% reading in 2010, the lowest Gallup has ever measured for any institution.
No Institutions Post Meaningful Gains in Confidence This Year
None of the 16 institutions tested this year saw significant increases in confidence compared with last year, with all either essentially holding steady or declining. The biggest declines were for television news, the public schools, and organized religion. The decline for television news effectively restored confidence in it to previous levels after a higher rating (27%) last year.
More generally, confidence in most of the institutions is below their historical averages. This likely reflects Americans' general state of dissatisfaction with current conditions in the United States. Only the military and the criminal justice system are significantly better than what Gallup has measured historically, while the confidence ratings in HMOs, small business, and the medical system are slightly better.
Banks are down the most, as this year's 21% confidence rating is half of the 42% average for banks since Gallup first included them in 1979. Organized religion, public schools, Congress, and television news are all currently at least 10 points lower than their historical average ratings.
Implications
Americans' confidence in many of the nation's key institutions remains shaky, including record-low confidence in public schools, banks, television news, and organized religion this year. Since 2008, several other institutions have registered record-low confidence ratings, including Congress, the Supreme Court, HMOs, big business, and organized labor. That means more than half of the institutions Gallup measures annually have hit bottom at some point in the last five years.
Thus, the declining confidence seems to be part of a broader pattern, rather than a product of isolated issues facing individual institutions. Once Americans begin to feel better about the way things are going in the United States, some of their lost confidence in the country's major institutions will likely be restored.
Survey Methods
Results for this Gallup poll are based on telephone interviews conducted June 7-10, 2012, with a random sample of 1,004 adults, aged 18 and older, living in all 50 U.S. states and the District of Columbia.
For results based on the total sample of national adults, one can say with 95% confidence that the maximum margin of sampling error is ±4 percentage points.
Interviews are conducted with respondents on landline telephones and cellular phones, with interviews conducted in Spanish for respondents who are primarily Spanish-speaking. Each sample includes a minimum quota of 400 cell phone respondents and 600 landline respondents per 1,000 national adults, with additional minimum quotas among landline respondents by region. Landline telephone numbers are chosen at random among listed telephone numbers. Cell phone numbers are selected using random-digit-dial methods. Landline respondents are chosen at random within each household on the basis of which member had the most recent birthday.
Samples are weighted by gender, age, race, Hispanic ethnicity, education, region, adults in the household, and phone status (cell phone only/landline only/both, cell phone mostly, and having an unlisted landline number). Demographic weighting targets are based on the March 2011 Current Population Survey figures for the aged 18 and older non-institutionalized population living in U.S. telephone households. All reported margins of sampling error include the computed design effects for weighting and sample design.
In addition to sampling error, question wording and practical difficulties in conducting surveys can introduce error or bias into the findings of public opinion polls.
View methodology, full question results, and trend data.

For more details on Gallup's polling methodology, visit www.gallup.com.