WASHINGTON, D.C. -- India's sputtering economy will undoubtedly be on millions of voters' minds when the month-long election in the world's largest democracy kicks off Monday. Indians' economic optimism all but evaporated in 2013, with a record 35% saying the national economy was getting worse.
Indians' growing pessimism about their economy is likely an ominous sign for the long-governing Congress party. Amid worsening economic conditions -- GDP growth has been below 5% for the last two years, compared with nearly 10% in 2010 -- the health of the once supercharged Indian economy is a major concern for voters.
The politically important southern region of India shows more economic vitality compared with other parts of the country, with 38% of Indians living there saying the national economy is getting better. But with about half of those living in the South (45%) believing the economy is staying the same or getting worse, the Congress party may struggle to retain its electoral dominance there.
Residents living in India's states in the North, which was more electorally competitive in the last election, are in dire economic straits because of a slowdown in the agricultural industry. Just 9% of Indians in this region believe their national economy is improving, while a firm majority (65%) say things are getting worse -- the highest percentage in any region. Meanwhile, Indians living in the East are the most optimistic about the status of the national economy, with 52% saying it is getting better.
Indians' diverging views on the economy help at least partially explain the differing levels of approval -- or disapproval -- for outgoing Prime Minister Manmohan Singh. An Oxford-trained economist leading the country since 2004, Singh has seen his once considerable political stature diminish with India's economic woes. In 2013, fewer than three in 10 Indians approved of Singh (27%), while 40% disapproved. His approval is weakest in the struggling North (14%) -- a steep drop from his 2012 approval rating of 38% in that region. The residents living in the South remain more favorable to Singh; he has a 40% approval rating there.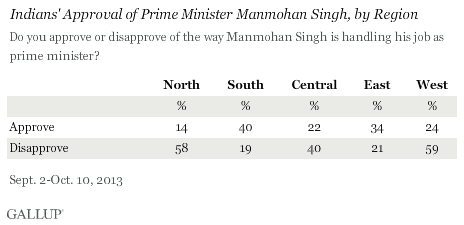 Living Standards Getting Worse for Many Indians
More than half of Indians say their standard of living is either staying the same (35%) or getting worse (20%), suggesting a majority don't necessarily see the future as particularly bright. Meanwhile, more than four in 10 say their living standards are getting better (44%).
There are differences by geography as well. Fewer Indians living in the central part of the country (28%) or the North (34%) say their standard of living is getting better. Higher proportions of people saying their standard of living is getting better reside in the South (53%) and the East (51%). More generally, Indians living in rural areas are less likely to say their standard of living is getting better (40%) than those living in urban areas (52%).
Half of Indians Say It Is a Bad Time to Find a Job
Adding to the nation's economic difficulties, about half of Indians believe it is a bad time to find a job in their local job market. Fewer than three in 10 (29%) say it is a good time to find a job.
Indians living in the more educated, service-based South are far more optimistic about the job market than Indians who live in other regions, with 53% of those living in the South saying it is a good time to find a job. By comparison, 13% of Indians in the North say it is a good time to find a job.
Bottom Line
The economy is a major issue for many Indians, and the slowing GDP growth rates have led many analysts to conclude that the dominant Congress party is doomed, probably in favor of the opposition Bharatiya Janata Party (BJP). To that end, a senior BJP leader said that the party will "have to re-establish confidence of both Indian and international investors in the Indian economy." But no matter who controls the lower house of India's parliament in May, they will need to restore the confidence of the millions of Indians who believe their economy is headed in the wrong direction.
For complete data sets or custom research from the more than 150 countries Gallup continually surveys, please contact us.
Survey Methods
Results are based on face-to-face interviews with 3,000 adults, aged 15 and older, conducted in September-October 2013 in India. Before 2013, results are based on face-to-face interviews with approximately 2,000 to 5,000 adults, aged 15 and older, conducted in 2008-2012 in India. For results based on the total sample of national adults, one can say with 95% confidence that the maximum margin of sampling error is ± 2.2 percentage points. The margin of error reflects the influence of data weighting. In addition to sampling error, question wording and practical difficulties in conducting surveys can introduce error or bias into the findings of public opinion polls.
For more complete methodology and specific survey dates, please review Gallup's Country Data Set details.