This article is featured in "Women and the Workplace," a weeklong series exploring a variety of issues affecting modern working women.
WASHINGTON, D.C. -- In every region of the world, men continue to do better than women when it comes to having full-time work for an employer. In fact, the gender gaps in Gallup's global Payroll to Population (P2P) employment rate remained just as wide in 2013 as they were five years ago.
Globally, full-time employment has not grown since 2012, and remained mired at 26% in 2013. P2P employment rates have not changed for either group since 2012, with the rate stagnant at 34% for men and 18% for women.
Gallup's latest global P2P measurements are based on more than 136,000 interviews across 136 countries in 2013, in which adults were asked employment questions modeled on the International Labour Organization's standards. Gallup's P2P metric estimates the percentage of the adult population aged 15 and older -- not just those currently in the workforce -- who are employed full time for an employer for at least 30 hours per week. Gallup does not count adults who are self-employed, working part time, unemployed, or out of the workforce as payroll-employed in the P2P metric, and it is not seasonally adjusted.
Across all global regions, women's deficit in the good jobs market remains largest in South Asia and the Middle East and North Africa (MENA), where their P2P rates lag behind men's by more than 20 percentage points. But is important to note that women in these two regions are also the least likely in the world to be in the workforce. Roughly three in four women in each region are out of the workforce, many choosing not to participate for cultural or political reasons.
Women's deficit in good jobs is smallest, at six points, in sub-Saharan Africa, but P2P rates are also among the lowest in the world for women and men in this region. P2P rates are highest for men and women in Northern America, the former Soviet Union, and the European Union, but gender gaps are still 10 points or larger even in these more developed regions.
Gender Parity in Sweden
Gallup's latest Global States of Mind report shows countries with the highest P2P rates tend to be some of the wealthiest -- or those with the highest GDP per capita. Other countries in which many people work for the government or government-owned entities also tend to top the list. The same types of countries tend to dominate the lists for men and women, however, the P2P rate for women is 50% or higher in only two countries, Sweden and Iceland, while the rate for men is 50% or higher in 11 countries.
Sweden is the only country in the world to achieve gender parity in full-time employment, which likely reflects how the country has one of the highest employment rates for women in the world and consistently ranks among the top countries on the World Economic Forum's Global Gender Gap Index.
Gender Gap Widest in the Workforce in the Middle East and North Africa
When it comes to just those who are in the workforce, women lag behind men most in full-time employment in MENA, but sizable gaps exist in Latin America, the European Union, Southeast Asia, and East Asia. Full-time employment is more equal among men and women in Northern America and the former Soviet Union.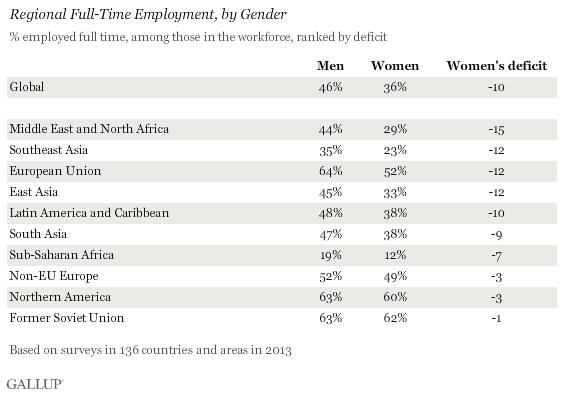 Majorities of women in most regions of the world, including those where they lag significantly behind men in full-time employment, are participating in the workforce. Women are least likely to be in the workforce in South Asia and MENA, with about one in four or fewer taking part.
The unemployment gap also continues to be worst in MENA, where women are nearly three times as likely to be unemployed. There are also smaller gender unemployment gaps in South Asia and Latin America. There is no gender difference -- or close to no difference -- in unemployment in most other regions of the world.
Bottom Line
While the full-time jobs situation has not improved for men or women, the world's women are still half as likely as men to have a "good job." As the global economy continues to recover in 2014 and beyond, these gaps reinforce the need to examine women's contributions more closely, particularly in emerging markets where these gaps are quite wide. When women enter the workforce in large numbers, it is an indicator that a country has crossed an important developmental threshold, and more people participating in the economy fuels growth.
For complete data sets or custom research from the more than 150 countries Gallup continually surveys, please contact us.
Survey Methods
Results are based on telephone and face-to-face interviews with 137,387 adults, aged 15 and older, conducted in 2013 in 136 countries and areas. For results based on the total global sample, one can say with 95% confidence that the margin of sampling error is less than ±1 percentage point. For results based on the regional samples, the margin of error ranges from a low of less than ±1 percentage point in Europe to a high of ±2.2 percentage points in non-EU Europe. For results based on country-level samples, the margin of error ranges from a low of ±1.7 percentage points to a high of ±4.2 percentage points. The margin of error reflects the influence of data weighting. In addition to sampling error, question wording and practical difficulties in conducting surveys can introduce error or bias into the findings of public opinion polls.
For more complete methodology and specific survey dates, please review Gallup's Country Data Set details.