This article is the third in a three-part series on global financial inclusion based on data collected for the new World Bank Global Financial Inclusion (Global Findex) database.
WASHINGTON, D.C. -- Adults in high-income economies are more likely than those in developing ones to have a credit card -- 50% vs. 7% -- or to have taken out a formal loan in the past year -- 14% vs. 8% -- a Gallup/World Bank study finds. Loans from other often informal sources, such as borrowing from family or friends, are much more common in developing countries.
These results come from a new global study of financial inclusion, which measures how adults in 148 economies save, borrow, make payments, and manage risk. The findings reflect more than 150,000 interviews with adults, aged 15 and older, conducted in 2011. Gallup collected the data for the new World Bank Global Financial Inclusion (Global Findex) database, which is funded by the Bill & Melinda Gates Foundation.
In the developing world, credit card penetration is relatively high in Latin America and the Caribbean, particularly in Brazil and Uruguay, and in developing economies in Europe and Central Asia, particularly in Turkey.
Extensive credit card ownership in high-income countries may help explain the lower-than-expected rate of new formal loans. Residents in these countries may view credit cards as a short-term alternative to formal loans.
Worldwide, adults in Israel are the most likely to report owning a credit card, at 80%. But the credit card market is virtually nonexistent in Egypt, Moldova, Pakistan, and Senegal, where 2% or less adults report having one. More than six in 10 adults (62%) in the U.S. have a credit card.
Family and Friends Largest Provider of Loans in Developing World
Informal lending from family or friends accounts for the largest percentage of loans in the developing world, with 40% of adults in sub-Saharan Africa saying they obtained loans this way and 5% saying they obtained them through other informal means. In comparison, half as many adults in high-income countries have borrowed from a family member or friend in the past 12 months.
The most common reason that people in developing countries give for having borrowed money in the last year, especially among the poor, is for emergency or health purposes.
In addition to access to credit, insurance provides an important tool for managing risk and planning for the unforeseen. Fewer than one in five adults (17%) in developing countries have personally paid for health insurance (in addition to national health insurance where applicable). Three percent report paying for health insurance coverage in the Middle East and North Africa and in sub-Saharan Africa. Nine percent of adults say they personally pay for health insurance in East Asia and Pacific, which excludes China, where 47% of adults report this.
Workers in certain professions, especially agriculture, are particularly vulnerable to weather-related destruction of goods that often results in an unexpected loss of income. Yet 6% of adults in developing countries who classify their work as farming, fishing, or forestry say they have purchased crop, rainfall, or livestock insurance in the past year. Low awareness of crop insurance is likely to blame for low participation in many developing countries.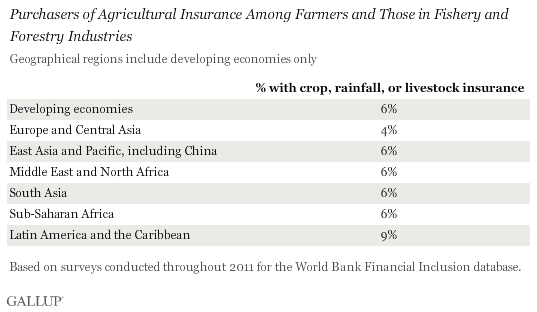 Implications
The Gallup/World Bank data provide an important look at adults' financial behaviors worldwide and reveal a significant gap in participation in formal lending, credit, and insurance between high-income and developing economies. Financial inclusion is linked to overcoming poverty, reducing income disparities, and increasing economic growth. During good times, people can use savings to build credit so that their families can buy a home, farmers can buy a tractor, and entrepreneurs can start up or grow a business. Formal financial products can also help individuals prepare for the hard times such as weather insurance to protect crops when floods or droughts deal a blow to earnings. Without these important tools for managing risk, many adults and their families do not have the means to rise out of poverty.
Access the complete country-level data set, report, and questionnaire at https://globalfindex.worldbank.org.
For complete data sets or custom research from the more than 150 countries Gallup continually surveys, please contact SocialandEconomicAnalysis@gallup.com or call 202.715.3030.
Survey Methods
Results are based on face-to-face and telephone interviews with approximately 1,000 adults per country, aged 15 and older, conducted in 2011 in 148 countries. For results based on the total samples, one can say with 95% confidence that the maximum margin of sampling error ranges from ±2 percentage points to ±5.1 percentage points.
The World Bank defines high-income economies as those with a GNI per capita of $12,276 or more.
For more complete methodology and specific survey dates, please review Gallup's Country Data Set details.