Story Highlights
66% say they have bought a product because it's more environment-friendly
11% have contacted a business because of practices that harm environment
Environmental record plays at least some role in employment considerations
WASHINGTON, D.C. -- A majority of Americans say they have intentionally bought a product because they thought it was better for the environment than the alternatives. Yet when it comes to other ways to "help" the environment, including contacting a business to complain about harmful business practices and buying stocks or bonds based on a company's environmental record, Americans are far less likely to have done so.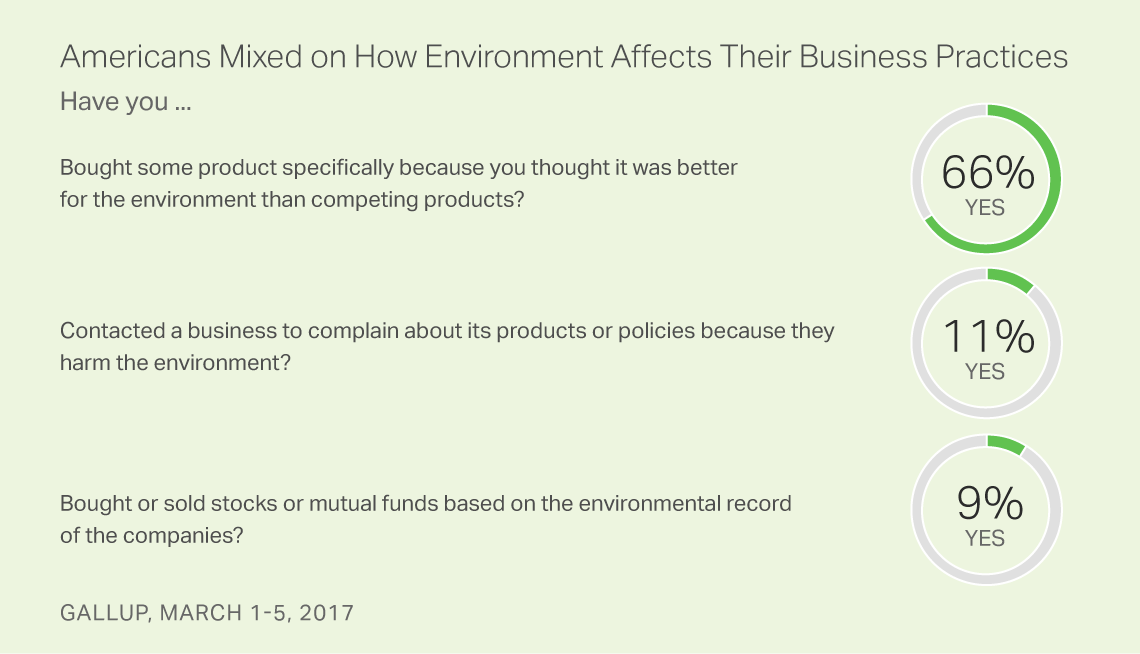 In its March Environment survey, Gallup asked Americans a variety of questions about how environmental considerations relate to certain consumer motives and decisions. In four previous surveys since 2000, solid majorities of Americans said they have bought a product specifically because they thought it was better for the environment. The 66% figure this year is a bit lower than the 76% reading Gallup found in 2010, the last time it asked the question, but still signals that the majority are environmentally aware at least in relation to this business practice. In 2007, 70% said they bought something specifically because it was better for the environment than competing products; in 2003, 72% said this; and in 2000, the figure was 73%.
The reason for the decline from 76% in 2010 to 66% today may have to do with political affiliation. In 2010, 82% of Democrats bought a product specifically because of the environment, and 66% of Republicans did the same. Yet in 2017, 80% of Democrats said yes to this question, but the percentage of Republicans declined to 53%. In previous surveys, the percentage of Republicans who said yes was also higher than in 2017.
Contacting Businesses, Buying Stocks to Help Environment Not as Likely
While Americans say the environment factors into the products they buy, they are less likely to say it motivates them to take other actions. When asked if they have ever contacted a business to complain about its products or policies because they harm the environment, 11% said they have done so, which is similar to all previous Gallup measures of this question (in 2000, 2007 and 2010).
Nine percent of Americans say they have ever bought or sold stocks or mutual funds based on the environmental record of companies. This is unchanged from 2000, the last time Gallup asked this question.
Environment a Factor in Evaluating Potential Jobs
The environment seems to be a somewhat bigger factor when it comes to employment. Working Americans say an employer's environmental record is a factor in their decisions about taking a potential job, but more say it is a "minor factor" (46%) than a "major" one (26%).
Now suppose you were looking for a new job. How much would the company or employer's environmental record matter in your decision about whether to take the job? Would it be a major factor, a minor factor or not a factor at all?
Major factor
Minor factor
Not a factor

%

%

%

Mar 1-5, 2017
26
46
28
Asked of those employed full or part time
Gallup
Bottom Line
With the modern environmental movement nearing its 50th anniversary -- after the founding of Earth Day in 1970 -- the environment has become an evergreen issue in the U.S., always in the background if not the forefront of policy debates. As the new polling shows, it is also a factor in some, though not all, consumer decisions. While most Americans say they will opt for a specific product because it is better for the environment, they are far less likely to contact a business about an environmental matter or buy stocks, bonds or mutual funds based on a company's environmental record. Those differences may reflect individuals' level of commitment to environmental causes, as well as the amount of effort or initiative required to do each task.
Yet the majority of working Americans do say they would consider a company's environmental record when considering taking a job with that company, including 26% who say it would be a major factor. Having a strong brand identity on environmental stewardship could not only help businesses retain and attract customers but improve their employee recruitment efforts. Altogether, the data show that while Americans are far from unified on these environmental issues, businesses can benefit by providing products or brand promises that appeal to Americans who desire to act on their environmental beliefs.
Historical data are available in Gallup Analytics.
Survey Methods
Results for this Gallup poll are based on telephone interviews conducted March 1-5, 2017, with a random sample of 1,018 adults, aged 18 and older, living in all 50 U.S. states and the District of Columbia. For results based on the total sample of national adults, the margin of sampling error is ±4 percentage points at the 95% confidence level. All reported margins of sampling error include computed design effects for weighting.
Each sample of national adults includes a minimum quota of 70% cellphone respondents and 30% landline respondents, with additional minimum quotas by time zone within region. Landline and cellular telephone numbers are selected using random-digit-dial methods.
View survey methodology, complete question responses and trends.
Learn more about how the Gallup Poll Social Series works.