WASHINGTON, D.C. -- National governments and financial institutions get among the worst marks of key institutions in Europe in 2011, likely reflecting the debt-related woes across the EU. A median of 36% across 27 EU member states were confident in their government and 43% were confident in their financial institutions and banks. Europeans trusted their military (69%) and honesty of elections (59%) the most.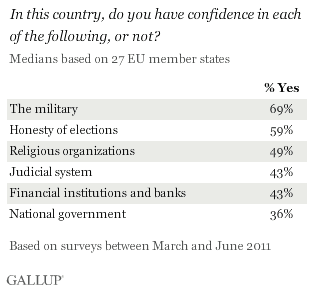 These findings are based on Gallup's surveys in 27 EU member states between March and June 2011 and in 14 of these countries each year since 2005.
Confidence Lowest in Southern and Eastern Europe
EU residents as a whole were more negative about their national governments in southern and eastern Europe, including some of the countries hardest hit in the current economic crisis. Fewer than one in five residents expressed confidence in their national governments in countries such as Greece, where protests against austerity measures have made international headlines. On the other hand, in the nation with the highest GDP per capita in the world, Luxembourg, residents expressed the most confidence, with 77% trusting their national government.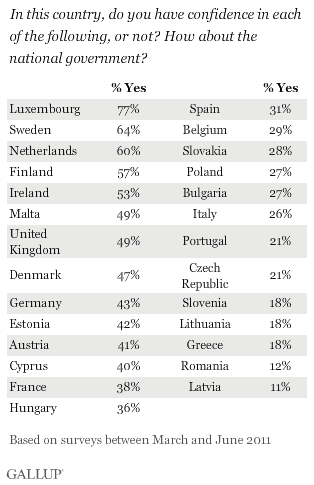 A median of 43% of EU residents expressed confidence in their financial institutions and banks. More than three in four Luxembourgers and Maltese were confident in these institutions, making them the most trusting in Europe. Confidence is lowest in Ireland, where residents have seen their largest banks fail since 2008. The 13% of Irish in 2011 who were confident in their financial institutions represents a 55-percentage-point decline since 2007. An also relatively low 19% of Greeks were confident, a 21-point decline since 2005.
Europeans' confidence in their financial institutions is similar to the level of their trust in their judicial systems (43%). Danes were the most confident (84%) in their judicial system, while fewer than one in four residents in Romania, Slovenia, Portugal, Lithuania, and Bulgaria were confident in theirs. Portuguese confidence in their judicial system has notably plummeted 14 points since the global economic crisis to 20% this year. Confidence has surged on the other hand in Poland, rising to 43% in 2011 from 16% in 2005.
About half of Europeans (49%) surveyed expressed confidence in their religious organizations, ranging from a high of 75% in Romania and Malta to a low of 32% in Belgium. The largest change in confidence took place in Ireland, where confidence decreased significantly from 63% in 2008 to 41% in 2009, likely reflecting the Catholic priest abuse scandal. Irish confidence has rebounded since to 50%.
Europeans Most Confident in Military and Honesty of Elections
Europeans place the most faith in their military and in their electoral process, with majorities in most countries expressing confidence in their military. Nearly all of the Finnish (93%) were confident in their military, while less than half of residents in Bulgaria, Latvia, and Hungary were confident in their militaries. Europeans' confidence in the honesty of their elections varies widely across the EU. Dutch and Finnish residents were the most confident at 84%. Romanians and Bulgarians were the least confident at 17%.
See complete data for all countries on page 2.
Implications
Gallup's surveys across Europe highlight the unstable economic and political environment currently facing the region. The lack of confidence in key institutions will make it more difficult for Europe to deal with its current sovereign debt crisis, which threatens the liquidity throughout the region and the world. Dealing with the situation will be particularly challenging in southern and eastern European countries, where residents have fairly low confidence in almost all institutions asked about.
For complete data sets or custom research from the more than 150 countries Gallup continually surveys, please contact SocialandEconomicAnalysis@gallup.com or call 202.715.3030.
Survey Methods
Results are based on face-to-face and telephone interviews with approximately 1,000 adults in each EU member state between March and June 2011. For results based on each sample of national adults, one can say with 95% confidence that the maximum margin of sampling error ranged from a low of ±3.5 percentage points to a high of ±4.0 percentage points.
For more complete methodology and specific survey dates, please review Gallup's Country Data Set details.