WASHINGTON, D.C. -- The youngest adults in the world's workforce are the most likely to be unemployed and underemployed, according to Gallup surveys in more than 131 countries. Twelve percent of young adults report being unemployed in 2009 and 2010, more than double the 5% of unemployed 30- to 49-year-olds. Additionally, more than one in four young adults were underemployed, compared with 15% of adults aged 30 to 49.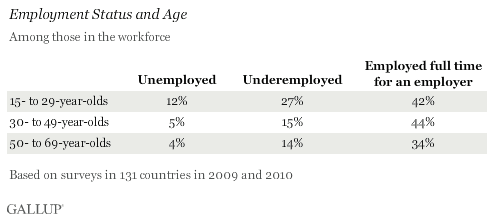 While young adults are struggling to find work, those in the workforce are more likely (42%) than 50- to 69-year-olds (34%) to be working full time for an employer. This is a relatively positive indicator. Worldwide, full-time employment with an employer is the metric Gallup finds to be most highly correlated with GDP, is linked to higher well-being, and is the basis of Gallup's measure of "good jobs."
Gallup defines "unemployed" respondents as those who are not employed for an employer or themselves, but are actively looking for employment and able to work. The "underemployed" are people who are unemployed or working part time but would like to work full time. Those classified as "employed full time for an employer" work at least 30 hours per week for an employer. Each group is reported as a percentage of the total workforce.
High Unemployment Among Young Adults Persists Across Regions
Higher unemployment and underemployment among young adults in the workforce is present in all regions of the world. Young adults in the Middle East and North Africa (18%), Europe (17%), and the Americas (16%) are the most likely to be unemployed. Underemployment, however, is highest for young adults in sub-Saharan Africa (38%) and the Americas (35%).
Employed Young Adults Not in Their Ideal Job
Globally, employed young adults are the least likely to say their job is ideal (54%), while employed adults aged 50 to 69 are the most likely (66%) to say this. Young, employed adults in former Soviet Union countries (41%), sub-Saharan Africa (45%), and the Middle East and North Africa (47%) are the least likely of all groups to say their job is ideal. Employed adults aged 50 to 69 in the Americas are the most likely to say their job is ideal (80%).
Implications
Unemployment among young adults isn't a problem only in the Middle East, where it has been partly tied to the recent social unrest. Young adults worldwide are struggling to find work, and for many of those who are working, their jobs are less than ideal. For young adults, a good job can provide the means to starting a family or buying a first home. The lack of jobs for the world's young adults is an issue that must be addressed so this group can feel engaged in their communities and financially ready to enter adulthood.
For complete data sets or custom research from the more than 150 countries Gallup continually surveys, please contact SocialandEconomicAnalysis@gallup.com or call 202.715.3030.
Survey Methods
Results are based on telephone and face-to-face interviews with approximately 1,000 adults, aged 15 and older, per survey administration. Interviews were conducted in 131 countries throughout 2009 and 2010. In many countries, the data have been aggregated. For results based on the total sample of national adults, one can say with 95% confidence that the maximum margin of sampling error ranged from a low of ±1.4 in India to a high of ±4.7 in Latvia. The margin of error reflects the influence of data weighting. In addition to sampling error, question wording and practical difficulties in conducting surveys can introduce error or bias into the findings of survey data.
For more complete methodology and specific survey dates, please review Gallup's Country Data Set details.