The final communique for the recent G7 summit in Canada included pledges to work toward removing barriers for women in social, economic and political areas, and resolutions to end sexual and gender-based violence. Except for a historic investment in girls' education, the summit fell somewhat short on concrete actions on a host of the 60 recommendations the G7 Gender Equality Advisory Council put forward -- including women's safety.
Gallup data suggest that a lot of work remains to "make gender inequality history," particularly in this area. Even among the G7 economic powerhouses, there is a nearly consistent 20-percentage-point gap between men and women on whether they feel safe walking alone at night where they live.
Men
Women
Gap

% Feel safe

% Feel safe

pct. pts.

Italy
72
49
23
U.S.
86
64
22
Canada
90
69
21
Germany
87
67
20
France
78
58
20
Japan
80
60
20
United Kingdom
83
64
19
Based on aggregated data from Gallup World Polls, 2006-2017
While majorities in six of the seven countries feel safe, women are at a disadvantage in all of them. The narrowest gap -- 19 points -- is in the United Kingdom, where 83% of men feel safe walking alone in their communities at night and 64% of women say the same. The widest gap -- 23 points -- is in Italy, where 72% of men and 49% of women feel safe. These overall numbers show a staggering difference between how men and women feel in their own communities.
Women in Low-Income Households at Greater Risk
As the Council suggested in its recommendations, certain groups of women are at an even further disadvantage. Gallup data show women in low-income households are worse off in their communities when it comes to their perceptions of safety.
Both men and women are more likely to feel safe as their household income increases. However, women in the richest 20% of households are still behind men in the poorest 20% of households in the seven most powerful and richest countries in the world. Even in some of the most affluent countries on Earth, wealth is not insulating women from safety concerns.
% Feel safe
Women, poorest 20%
Men, poorest 20%
Women, richest 20%
Men, richest 20%
Germany
67
85
73
90
Canada
65
89
76
92
United Kingdom
60
76
71
88
U.S.
58
78
70
91
France
56
74
62
79
Japan
56
76
68
85
Italy
47
69
51
74
Based on aggregated data from Gallup World Polls, 2006-2017
The good news for four of the G7 is they have made some progress in this area in the past decade. Specifically, perceptions of safety among women have increased from where they were in 2006 in the United Kingdom (28-point increase), Japan (20-point increase), France (10-point increase) and Canada (eight-point increase). Canada is the only G7 country that ranks among the highest countries in Gallup's Law and Order Index, which is Gallup's annual measure of how secure people feel.
Women's perceptions of safety ebb and flow, as seen in Gallup data, and are likely related to recent events, such as the #MeToo movement, discussions in the media, their income level and where they live.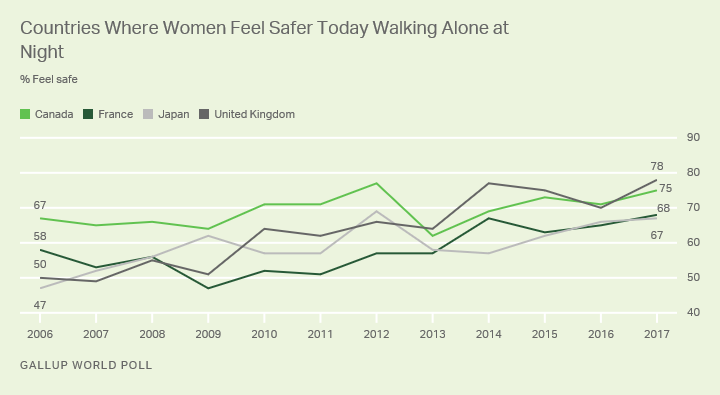 Women in Urban Areas Feel Less Safe
The G7 Gender Equality Advisory Council noted in its recommendations that "Girls and women living in rural areas often lack access to basic social services and infrastructure with complex structural barriers that perpetuate … gender inequalities."
While access is certainly a documented barrier rural women face, Gallup data suggest rural women in almost every G7 country feel a stronger sense of safety than women in urban areas. The only exception is Japan, where 58% of women in rural areas and 64% of women in urban areas feel safe walking alone at night.
The higher degrees of safety in rural areas suggest that women's perceptions of safety are aligned with higher crime rates found in more densely populated urban areas. UCLA's Anastasia Loukaitou-Sideris, a professor of urban planning who studies how perceptions of crime and safety impact women's use of public transportation, told The Washington Post in 2017 that trains and buses are "ground zero for the kinds of incidents highlighted by #MeToo."
In urban areas of G7 countries, where large public transportation systems are common, Gallup data support the notion that women in larger cities are less likely to feel safe in their communities. For women who do not have any alternative mode of transportation, harassment can be a daily or weekly occurrence.
Next Steps
To make gender inequality history when it comes to safety, G7 leaders will need to turn recommendations into action to provide safe spaces for women to live, grow and thrive without fear of psychological, physical or sexual violence.
Gallup's data underscore that such violence hits poorest women -- who are already at a further disadvantage -- the hardest. These women may be less likely to come forward because of potential consequences, such as losing their job at which they are experiencing harassment.
G7 leaders will need to push for and implement real policies to create a safer world for all women. As Care International UK's Helen Pankhurst noted in a recent op-ed, "What we need, in response to #MeToo, is a global culture change in the workplace, from the Hollywood Hills to the corridors of power in Westminster, to the factory floors of Dhaka and back again, leaving no one out."