WASHINGTON, D.C. -- Chinese workers are among the least likely in Asia to say their jobs are ideal, even though China has one of the lowest unemployment rates in Asia at less than 5%. About half of Chinese workers (49%) say their job is the "ideal" one for them. This ties them with workers in Sri Lanka and Vietnam for last on a list of 22 Asian economies.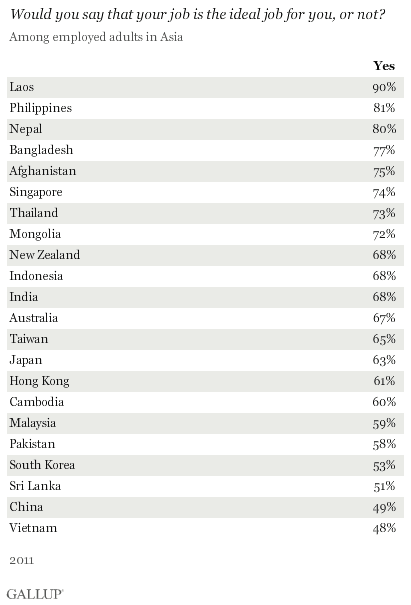 These findings, from Gallup surveys conducted in 2011, suggest that providing an adequate number of jobs in China alone is not enough to fulfill the career expectations of its workforce, or to sustain and grow a productive labor pool. The latter will be particularly important if the country's current economic slowdown becomes protracted and jobs are less plentiful.
Despite the recent economic slowdown, Chinese workers' job expectations are likely to remain high because of the country's overall growth in recent years. This likely means that many Chinese workers will not be looking for just any job, but for a great job -- one that offers a good workplace where they can use their unique talents. While the majority of Chinese workers (63%) say they have the opportunity at work to do what they do best every day, this is lower compared with the majority of Asian economies surveyed and is down from 68% in 2010.
The relatively low percentage of Chinese workers who believe they get to do what they do best in their job does not bode well for China in general, and is particularly troubling for a nation most well-known for its manufacturing prowess. Combined results from 2010 and 2011 reveal that employees who work in manufacturing or production are less likely to say they have the opportunity to do what they do best every day (57%) than those in professional fields such as engineering, law, accounting, science, and medicine (78%).
Workers Who Can Do What They Do Best See Their Jobs as Ideal, Productive
Chinese efforts to focus more on building jobs around individual talents may pay off in productivity. Chinese employees who say they have the opportunity at work to do what they do best every day are twice as likely to consider their current job as "ideal" (60%) as those who disagree (30%). Moreover, those who believe they have the opportunity to do what they do best daily are also more likely to say they are "extremely productive" at their current job (62%) than those who do not (38%).
Perception of Fair Pay Also Enhances Views of Having Ideal jobs
Sixty-one percent of Chinese workers say they are paid appropriately. These employees are significantly more likely to say their current job is "ideal," 60%, than are workers who say they are not compensated fairly for their labor, 33% -- a gap of 27 percentage points.
This finding suggests an employee's perception of appropriate and fair income is a good indicator of job fit.
Implications
As the world center of manufacturing, the majority of job opportunities in China have been low-value, mass-production jobs. To satisfy China's ambitious five-year goal to transform their nation from a manufacturing powerhouse to an indigenous innovation center, managers must focus on building jobs around the individual talents rather than fitting an individual to a job -- an endeavor that can create space for all employees to contribute to advancements in various fields. If more Chinese workers have the opportunity to use their individual talents to do what they do best every day -- and if their contributions are accurately measured and economically rewarded -- the country may be better able to protect against future financial downturns.
For complete data sets or custom research from the more than 150 countries Gallup continually surveys, please contact SocialandEconomicAnalysis@gallup.com or call 202.715.3030.
Survey Methods
Results are based on face-to-face interviews with approximately 1,000 adults, aged 15 and older, conducted in 2011. For results based on the total sample of national adults, one can say with 95% confidence that the maximum margin of sampling error ranged from a low of ±2.0 percentage points in India to a high of ±4.0 percentage points in Cambodia. For results based on the Chinese working adults, one can say with 95% confidence that the maximum margin of sampling error is ±2.5 percentage points. The margin of error reflects the influence of data weighting. In addition to sampling error, question wording and practical difficulties in conducting surveys can introduce error or bias into the findings of public opinion polls.
For more complete methodology and specific survey dates, please review Gallup's Country Data Set details.